Worpswede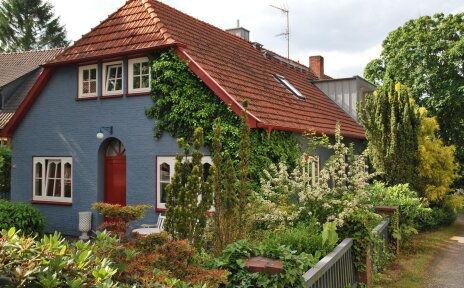 The scenery around Worpswede is lovely, the art is unique, and the residents and guests fill it with life.
Quelle: WFB - JUA
The artists' village of Worpswede makes its scenic appearance some 28 kilometres away from Bremen in the lowlands of the River Hamme, right in an area known as Devil's Moor (Teufelsmoor). Many galleries and studios show contemporary art. The Old Dairy hosts further exhibitions and theatre productions, and Worpswede music hall is the venue for high-calibre concerts. There's also ample opportunity for trips into nature, for example by bicycle, peat boat, kayak, horse and cart, or the Moor Express heritage railway.
Worpswede has been an artists' colony for almost 130 years. The former farm is situated on the slope of Weyerberg hill to the north-east of Bremen, close to Devil's Moor and the Hamm marshes. Over the years, the colony has turned an ordinary village into a famous and inspiring place for artists, including Heinrich Vogeler and Paula Modersohn-Becker. The Barkenhoff arts centre, the Haus im Schluh museum, the Museum am Modersohn-Haus, the Worpswede Kunsthalle, the Grosse Kunstschau exhibition and the round building known locally as the 'Käseglocke', or cheese dome, are all worth a visit.
Teufelsmoor near Worpswede
Teufelsmoor is an ideal destination for a trip to the countryside – by bike, e-bike, canoe, Moor Express or peat barge. Nature lovers will enjoy a tour of the moorlands, while the culturally minded are well-served by Worpswede's museums. The region is a cyclist's paradise and lies within easy reach of Bremen, for example via the 'Weites Land' and 'Vom Teufelsmoor zum Wattenmeer' cycle routes.
You might also be interested in...

Which long-distance cycle routes lead to or pass through Bremen?
Quelle: WFB/Ginter