Excursions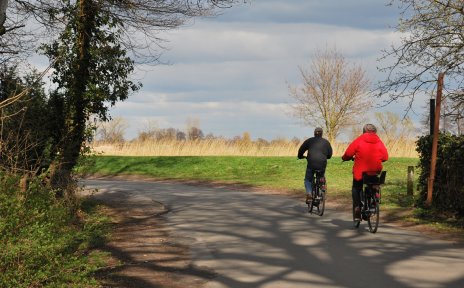 Days out and the surrounding region
Quelle: bremen online
How about travelling the world along the eighth degree of longitude at the Klimahaus? Or tracing the history of art nouveau at the artists' village of Worpswede? Not only does Bremen city centre merit a visit. There are also many exciting activities and attractions in the surrounding region that are well worth discovering.
Places of interest in Bremen's surrounding region
Marshes, sandy heathland, forests, dunes and tree-lined meadows define the scenic diversity that surrounds Fischerhude, seemingly lost in time.
Quelle: Flecken Ottersberg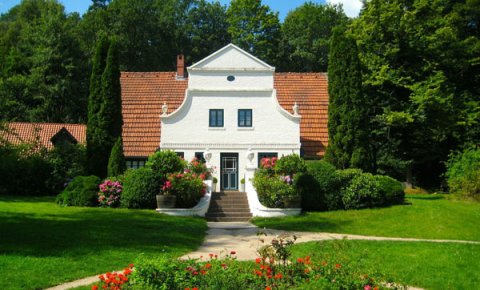 The scenery around Worpswede is lovely, the art is unique, and the residents and guests fill it with life.
Quelle: Nicole Kanning / www.worpswede.de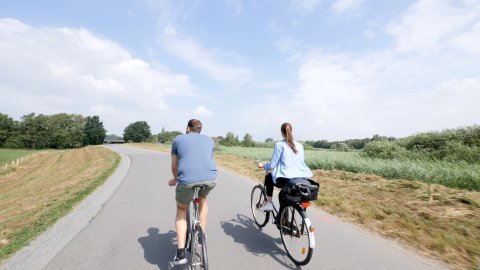 Various sections of these routes are also suitable for one-day bike rides.
Quelle: WFB / MKA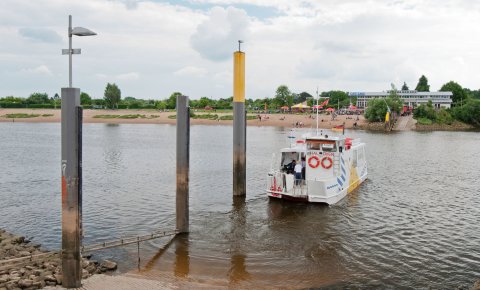 Cross the Weser and enjoy Bremen's shortest boat ride or set out on a short trip to the beach.
Quelle: bremen.online GmbH / Dennis Siegel
The unending sky of Northern Germany. The constant beat of tidal waves. The toing and froing of mighty ships from every corner of the world. Old seafaring dreams. Navigation lights gleaming on the lightless river. Floating sails that belly in the sunshine. Seabirds that fly into the sunset. The surging of the storm tide. And the hooting of foghorns in the early hours of the morning. Sights and sounds that typify the busy deep-water seaport of Bremerhaven. Weiterlesen
Bild 1
Quelle: Fischereihafen-Betriebsgesellschaft mbH
Bild 2
Quelle: WFB/Studio B
Bild 4
Quelle: Privat / bko
Bild 5
Quelle: Privat - BKO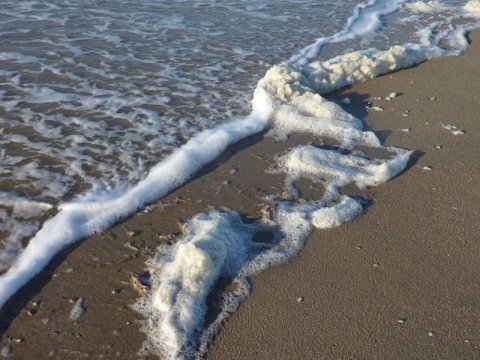 Take a boat trip out to Helgoland, set sail on the sea or gaze at gargantuan cruise ships.
Quelle: Seniorenlotse, Siegel
Family attractions in Bremen's surrounding region
Serengeti Park Hodenhagen
Northern Germany's largest safari and leisure park with 1,500 animals including 200 monkeys, leisure/water world. Enjoy an exciting, unforgettable day out in the four fascinating discovery zones at Serengeti Park.
Quelle: Serengeti-Park Hodenhagen
Walsrode Bird Park
World's largest bird park: first-class entertainment with sensational flying shows, a beautiful botanical garden and a blossoming sea of flowers. You can admire over 4,200 birds from all the Earth's climate zones.
Quelle: Vogelpark Walsrode GmbH
Climate House Bremerhaven 8° East
The journey at Klimahaus Bremerhaven® 8° Ost offers a close-up experience of how people live in the Earth's major climate zones and presents realistic impressions of authentic locations all along the eighth degree of longitude east.
Quelle: Laurence Delderfield / Klimahaus Bremerhaven 8° Ost
Magic Park Verden
Spend an unforgettable action-packed day with your family at this unique magical fairytale theme park – fun is as good as guaranteed!. At the petting zoo, you can get up close to all the animals.
Quelle: Magic Park Verden
German Emigration Centre Bremerhaven
In the German Emigration Center visitors encounter the moving family stories of the emigrants – and also learn about the eventful paths of those who have made Germany their home since the 17th century.
Quelle: Deutsches Auswandererhaus
Zoo am Meer
Specialising in aquatic and Nordic species, the Zoo am Meer is home to approx. 280 species including polar bears, Humboldt penguins, northern gannets and seals.
Quelle: Zoo am Meer Bremerhaven
You might also be interested in...