Activities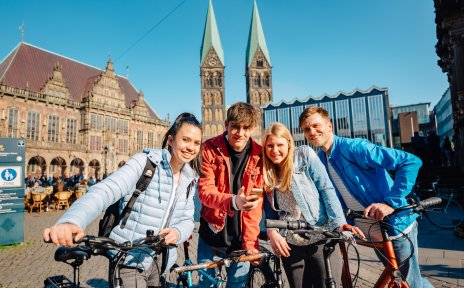 Enjoy Bremen with all its special experiences. From a look behind the scenes of unique manufactories, to a trip to the nearby North Sea, to a relaxing wellness day, the city on the Weser has a wide range of activities for you.
Quelle: WFB/Ginter
No matter if you are on a short trip to Bremen, if you are spending a longer holiday in the region, if a business trip leaves you time for activities besides your professional duties or if you are at home here and are looking for a change from everyday life: There is a lot to experience in Bremen and its surroundings. Let yourself be inspired and spend a great time in the Hanseatic city.
Tips for your short trip
There is so much to discover in the city on the Weser, so many stories to tell and so many adventures to experience that a short trip is not enough to get to know all the facets of Bremen. Nevertheless, the city of short distances is also a wonderful place for a short trip. Many of the most important sights are only a few minutes' walk away from each other, in vibrant and exciting districts you will get an impression of the local lifestyle. Just let yourself drift and be inspired by our tips for your short trip to Bremen.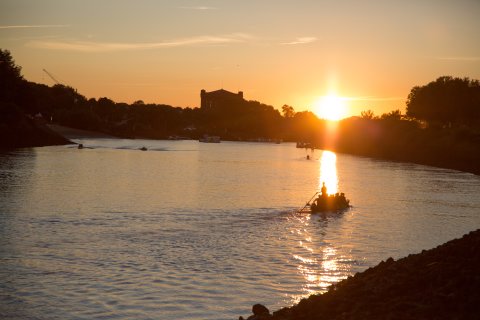 Tips for a one-day visit to the city on the Weser.
Quelle: WFB Wirtschaftsförderung Bremen GmbH / Jens Lehmkühler
Stroll, rummage, find treasures - Shopping in Bremen
Finally getting a few days off? Then maybe there is some time for an extended shopping spree. Bremen is just the right place for that. From varied shopping streets, covered arcades, shopping centres and outlets to colourful flea markets and weekly markets - Bremen will delight you with its shopping landscape.
Look behind the scenes
Beck's Beer, Mercedes Benz or Airbus, but also small manufactories that produce delicacies such as sweets, coffee or beer, provide insights behind the scenes. In factory tours, guided tours and tastings, you will learn interesting facts about the various productions and immerse yourself in the worlds of Bremen brands.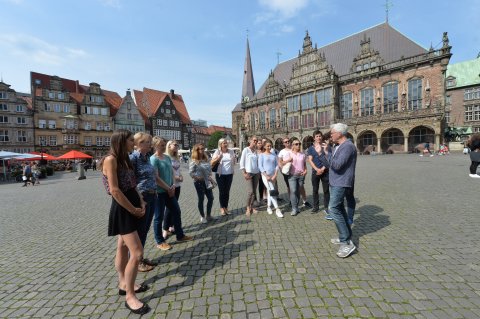 Bremen has something for everyone – with treats for the eyes and ears as well as the taste buds. And a whole lot of history.
Quelle: WFB/Michael Bahlo
Excursions and activities
How about a day at the sea, a trip to the countryside, a bike tour or an action-packed visit to the theme park? In Bremen directly or in the immediate vicinity, great destinations for varied excursions await you. Above all, Bremen's sister city Bremerhaven invites you to take a tour. But also places like Fischerhude or Worpswede are known far beyond the borders of the region.