Tourism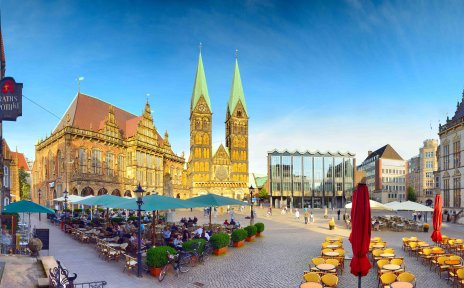 Bremen's tourist attractions, hidden gems, insider tips and where to stay
Quelle: Francesco Carovillano / DZT Deutsche Zentrale für Tourismus e.V.
The Town Musicians of Bremen are not only known world-wide. Their plan of travelling to Bremen is still a really good idea today. Bremen's urban diversity, vibrant culture and laid-back, tolerant atmosphere is what makes the city so fascinating. Bremen is always ready to welcome visitors with open arms, with its almost infinite variety of arts, music, experiences, gastronomic delights and scientific wonders, against the imposing backdrop of a World Heritage site!
Start dreaming of tomorrow today!
It's said that anticipation is the greatest pleasure. So, let yourself be carried away by the prospect of future travels and turn your thoughts to making plans, gathering facts and figures and looking for inspiration. Hopefully, it won't be long before you can pack your bags and come to experience Bremen "live and in full colour". So that you can plan your travel more easily in these difficult times, we've adapted our terms and conditions for cancellations so you can book your trips and experiences completely without risk. All our package deals can be cancelled free of charge up to 8 days before arrival. Our city tours can be cancelled free of charge up to one day before arrival. Many hotels even offer free cancellation up to the day of arrival. OK, let's go! Start planning your trip to Bremen!
You'll find information about the Corona virus here, on the City Portal. We've also added the answers to some of the FAQs about travelling to Bremen to our website. Our Bremen experts will be happy to answer any other tourism queries you might have. Please check with your event organiser, to see if your event is going ahead as planned or whether the venue you want to visit (museum, gallery etc.) is open.
Tips for planning your visit
Bremen's always worth a visit, no matter whether you're travelling with your best friend, your partner, the family, a group or on your own. In addition to its multitude of tourist attractions, this vibrant city in the heart of north-west Germany offers cultural and culinary delights, a laid-back Hanseatic atmosphere and an exuberant variety of activities and shopping opportunities. You'll find a wealth of insider tips and useful information to help you get the very best from your trip to Bremen here
Advice and useful facts from our "experience-makers"
Would you like personal advice about your trip or stay in Bremen? Are you looking for something in particular or are you open to suggestions? Simply contact the "experience-makers" at the Bremer Touristik Zentrale tourist information office. They will be happy to have a chat or send out information – you're sure to get the best advice!