Schlachtezauber on the Weser River
In winter Bremen transforms itself into a sea of light and festive sounds
Quelle: privat / KMU
The Schlachtezauber, with the smell of burning wood, grills, and spices in the air. Have a seat inside one of the medieval wooden huts to enjoy a glass of mead or mulled wine while watching the craftspeople ply their trade.
Where & When
Schlachte

November 22 - December 22 2021
Every year for the advent season, the Weser promenade is transformed into a magical maritime winter market: The Schlachtezauber. In cosy wooden huts delicacies from various regions await you. When the sun goes down, the Schlachte becomes bathed in a blue light. The rustic atmosphere transports visitors to a bygone time. The range of trades here - from tailors to basket weavers to potters - ensures that there is something for everyone. The Schlachtezauber gives the city on the Weser a distinctly unique character.

Varied programme at idyllic location
The nip in the air, the market stalls decorated for Christmas and the festively illuminated ships will have you hankering for a hot coffee or a warming mead. The pirate village – built in Hanse style – is one of the most popular attractions. The versatile programme offers open-air theatre, colourful fireworks, and musical highlights. Minstrels, street-musicians, and jugglers roam about daily. The lovingly decorated winter huts, with their alpine charm, invite you to enjoy some Glühwein and eggnog at your next after work party.

The hammering and construction already begins in the middle of November in order to be ready to offer the public this very special event. The Schlachte Zauber opens the first week of advent and runs till 23 December.
The city's famous Böttcherstraße provides a scenic and direct route from the Schlachte river promenade to the Christmas market in the market square.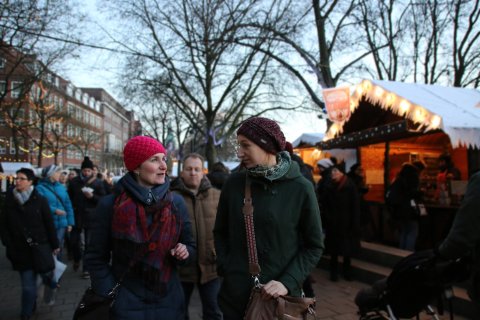 Quelle: WFB/Katharina Müller
You might also be interested in...