WK-Bike – Cycling in Bremen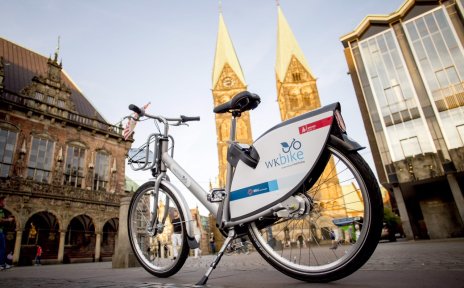 The mobile cycle hire system that provides modern and green personal transport in Bremen.
Quelle: Weser Kurier
The Weser-Kurier Media Group, local public transport provider BSAG and 'Bremen Bike it' have teamed up to offer a flexible cycle hire scheme in Bremen. The scheme was launched in June 2018 and is set to provide 450 bicycles for hire by the end of the year. WK-Bike will be implemented using nextbike, an international cycle hire system that already operates in over 54 German towns and cities.
Prices
1 Euro per 30 minutes or part thereof
Maximum cost per day: 9 Euro
Annual pass: 48 Euro (first 30 minutes free)
You can easily hire a bicycle through an app that displays 43 hire points spread across Bremen.
You can also hire bicycles within a flexible zone without being restricted to specific points. The zone reaches from the main train station to the Alte Neustadt district, and along the whole of Osterdeich to the beginning of Überseestadt.
The lock opens as soon as the QR code on the bicycle has been scanned or the number has been entered into the app. And you're ready to go.
Once you have reached your destination, you simply lock the bicycle again.

The high-quality bikes are regularly maintained and repaired, but if something should go wrong, you can reach the call centre around the clock.
You might also be interested in...