Wallanlagen Park
The perfect place for a relaxing stroll in the city center.
Quelle: WFB Wirtschaftsförderung Bremen GmbH/T. Vankann
Today, this park where the ramparts once formed an extra line of protection around the city's boundary walls is ideal for enjoying a walk, taking in the views and treating yourself to a delicious slice of cake.
The park information centre, which is open every Thursday from 10am to 4pm, is in one of the old guardhouses, not far from the "coffee windmill". Also worth seeing is the parkland between Neustadtscontrescarpe and Neustadtswall next to Bremen University of Applied Sciences.
Windmill in Wallanlagen Park
If you are strolling from the main station to the city centre, the first notable feature you come across is the windmill in Wallanlagen Park. This is a great place for a walk, or simply to wind down and relax. The windmill is open to the public and also houses a restaurant.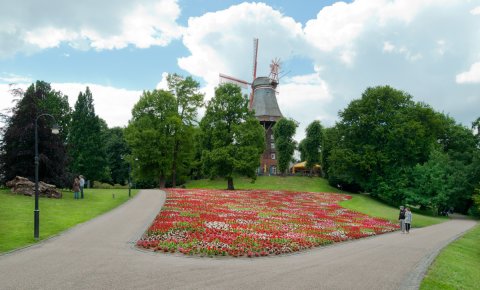 Quelle: bremen.online GmbH / Dennis Siegel
You might also be interested in...