Überseestadt and Europahafen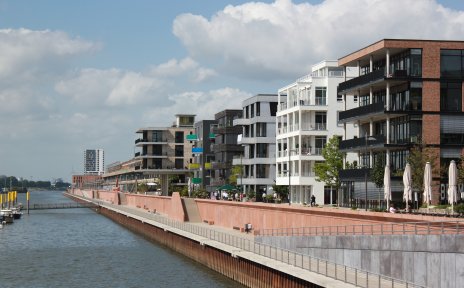 The changing face of the city
Quelle: privat / Fotograf: K. Bünn
Überseestadt, where once ships passed by and cargo was unloaded, is a new addition to Bremen's cityscape. Following the gradual decline of the maritime economy, a new vibrant and innovative quarter has been taking shape over recent years.
In 2000, Bremen's Senate agreed on a development plan for the restructuring of the former docklands in Bremen, laying the foundations for an exciting period of change. Where just a few years ago cotton, coffee and spices were stored is now flourishing as one of Bremen's most exciting hubs for art, culture and the service industry.
Huge old red-brick warehouse are now the venue for numerous cafés, restaurants and businesses. Bremen's University of the Arts, for example, has found a creative space for its design and fine arts faculty in Speicher XI, a former warehouse. The Dockland Museum and the Speicherbühne theatre are also housed here. Commercial, office and residential space in the old warehouses and new buildings is in high demand.

Exploring Überseestadt
All around the old harbour basins, there is plenty of room for cyclists and walkers to roam. Überseestadt is constantly evolving and there is always something new to see. Visitors can choose from a wide range of cafés and restaurants, or take in the maritime atmosphere and views of the harbour from one of the many benches along the quay. In Europahafen, pretty sailing boats and yachts vie for a berth in the marina.
Transshipment of cargo
In the wood, textiles and grain harbour you can watch the loading and unloading of large ships, as this is still a logistics hub for cargo vessels. The main cargo transshipped here includes animal feed, grain, flour and frozen products, sometimes even containers. These areas of the harbour are still used commercially and are mainly home to manufacturing companies.
The River Weser round tour
Quelle: WFB Wirtschaftsförderung Bremen GmbH / Ingo Wagner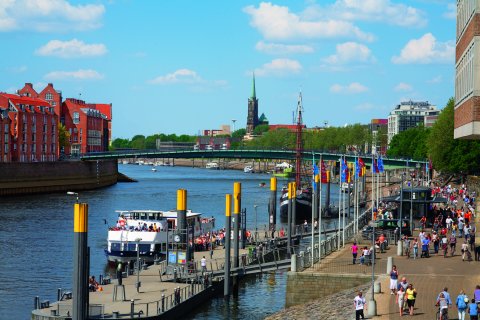 Quelle: WFB/Torsten Krüger
You might also be interested in...