St. Peter's Cathedral
Protestant/Lutheran church with a history spanning more than 1,200 years. Early-Gothic style from the first half of the 13th century. Oldest sections are the crypts.
Quelle: privat / JUA
Set between the town hall and the State Parliament, the cathedral completes the ensemble of historical buildings on Bremen's market square. Its two towers, one of which is open to visitors, are visible from afar and dominate the city skyline.
Opposite the cathedral, Bremen's merchants put up the Roland statue – the symbol of their freedom and autonomy from the bishop of Verden, who ruled over Bremen for many years. During the turbulent times of the Reformation, the originally Catholic cathedral became first Calvinist and finally Lutheran.

In the cathedral's lead cellar, you can discover the mysteries of the mummies. If that sounds a bit too macabre, the Bible garden offers a chance to sit and relax with a cup of coffee and a piece of cake.
You might also be interested in...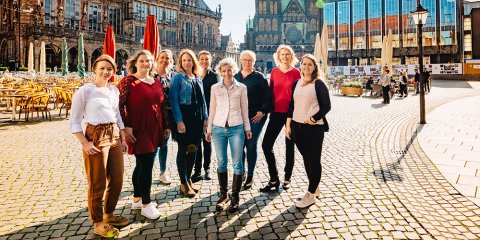 We are your local partner and we're here to help you!
Quelle: WFB/Jonas Ginter