Friedrich Engels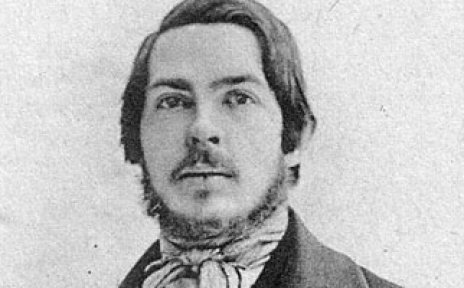 Detailed information about Engels in Bremen.
Quelle: Kellner-Verlag, Johann-G. König
The Bremen years
Friedrich Engels was born in Barmen (now part of Wuppertal) on 28 November 1820. He died on 5 August 1890 in London. He first met Karl Marx in Paris in the summer of 1844. The two men discovered that they shared the same fundamental views on social theory and this meeting marked the start of a remarkable collaboration.

After attending grammar school, which he had to leave early, Friedrich Engels served an apprenticeship at his father's company Friedr. Engels & Ermen in 1837. In the summer of 1838, he accompanied his father, who was widely regarded as a progressive industrialist, to London and Manchester. After that, Engels went to Bremen, where he continued his training at the trading house (Kontor) of businessman and Royal Saxon consul Heinrich Leupold (1758-1865).

Heinrich Leupold, who traded mostly in linen but also in coffee and cigars, had a grand residence and warehouse diagonally opposite St. Martin's Church (Martinikirche). The building, no. 11 Martinistrasse, was demolished in 1897. In the 1960s, a brick building (house number 27) was built on the site where Engels once went about his daily business. The fine rococo facade on the two lower storeys, the only part of the original building to have survived, is a reminder of this time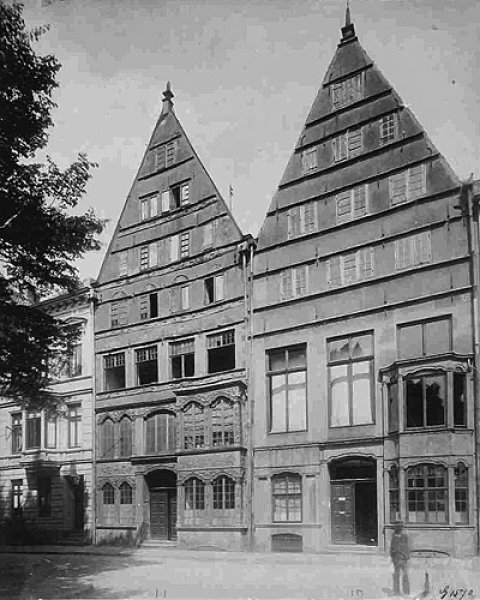 Hausfassade in der Martinistraße Nr. 11
Quelle: Focke-Museum Bremen
The magnificent house belonging to Heinrich Leupold had two courtyards and a number of adjoining buildings. At that time, it was one of 33 grand mercantile houses on Martinistrasse and made quite an impression on the young Friedrich Engels: "Here in Bremen the merchants' houses are all built in a very remarkable way. They are not built with their long sides facing the street like ours but with their short sides, so that the roofs are very close together, and the hall is very large and high, just like a small church. They have hatches above and below, one on top of the other, which are closed by trapdoors and through which a hoist can move up and down. Up in the attic is the store-room and coffee, linen, sugar, whale-oil, etc., are brought up by the hoist. All halls have thus two rows of windows one above the other."

Friedrich Engels lived and worked in the Free Hanseatic City of Bremen from 11 August 1838 to late March 1841. The Bremen years marked the start of his pre-eminent career in journalism, politics and economics – albeit under the pseudonym of Friedrich Oswald, a fact that only came to light after his death. In Bremen, Engels became a prolific writer of letters. Away from watchful eyes, he bought and read topical literature, polemic papers and journals. He concerned himself ever more intensively with the issues of the day. He delved into politics, economics, technology, literature, philosophy and religion. He signed up to the social reform and literary movement Young Germany. He became a Young Hegelian. He honed his observation skills and powers of reasoning – which were extraordinary for a man of his age. He polished and refined his style. He kept active, sang in a choir and savoured almost every worldly pleasure that was offered at the time. He did all this in Bremen.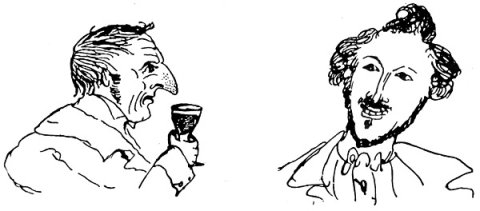 Zeichnung von Friedrich Engels.
Quelle: Kellner-Verlag, Johann-G. König
More than 40 handwritten letters (some with literary postscripts and drawings) plus over 30 literary and journalistic works published under a pseudonym, which are known to originate from Engels' Bremen years, have been preserved for posterity. They reflect Engels' rapid development intellectually, academically and socially during his time in the Hanseatic city. Unfortunately, there is no trace today of the many letters that Friedrich Engels wrote during the Bremen years to other friends from his childhood and school days. The letters written to him are also most likely lost forever.

Quelle: Focke-Museum Bremen
When the 17-year-old Friedrich Engels came to Bremen in the summer of 1838 and took up residence on Martinistrasse, around 37,000 people were living in the Hanseatic city and another 12,000 in the rural suburbs. Trade was flourishing at that time and around 210 ships were sailing under the Bremen flag to destinations around the world. Bremen was also on the verge on becoming the largest emigration port in Europe. This was primarily due to the building of the additional port in Bremerhaven, which went into operation in 1830. In his celebrated travel report A trip to Bremerhaven, Friedrich Engels addressed the reasons why people were emigrating and also the poor conditions on board the emigration ships.

Zeichnung von Friedrich Engels.
Quelle: Kellner-Verlag, Johann-G. König
Engels found lodgings at the Rectory of St. Martin, directly opposite the trading house, with Pastor Georg Gottfried Treviranus (1788-1866) and his warm-hearted wife Mathilde (1794-1878).

The spacious rectory, in which Friedrich Engels was so warmly welcomed, was located at the western end of the churchyard but it no longer exists today. A detailed illustration by Rudolf Stein gives an impression of how the rectory and garden would have looked from the Weser river at the time of Engels' stay:

Nothing is known today about the size of Engels' lodgings or the furnishings inside. Looking out of the window, Engels would have been able to see a street called ErsteSchlachtpforte, which still runs alongside the church today. In fine weather, young Friedrich liked to visit the parish garden, which extended from St. Martin's Church to the quayside. During the day – people even had to work until lunchtime on Sundays in those days – Friedrich Engels spent his time in the trading house of his remarkably liberal employer, consul Heinrich Leupold (1798-1865). It could be very relaxed at times, as he wrote in a letter to his sister Marie:

"Yesterday afternoon there was no more work to do, and the Old Man was out […]. So I lit a cigar, first wrote the above to you, then took Lenau's Faust from my desk and read some of it. Afterwards I drank a bottle of beer and at half past seven went to Roth's; we went off to the Club, I read Raumer's Geschichte der Hohenstaufen and then ate beefsteak and cucumber salad. At half past ten I went home and read Diez's Grammatik der romanischen Sprachen until I felt sleepy."

Although Friedrich Engels was probably not called upon to carry out consular duties during his apprenticeship, the Royal Saxon consul certainly allowed his pupil to share in his knowledge of trade, business and emigration. Engels captured Heinrich Leupold's appearance in one of his drawings:

Friedrich Engels soon knew St. Martin's quarter like the back of his hand. This part of the city, which extended to the river, was where he lived, read, studied, wrote and worked. He also had no difficulty finding his way around Bremen's old town, which was located within St. Martin's. Most of the places he liked to visit in the old town were, in any case, situated near to his lodgings in the Rectory of St. Martin's Church and his place of work at Leupold's trading house.

Although the old town is still surrounded by ramparts and the city moat as it was in around 1840, the modern-day cityscape would be almost unrecognisable to Engels. This is mainly because of the devastation wrought by the Second World War. With the exception of a few buildings, such as the World Heritage town hall, almost the entire old quarter had been reduced to rubble by 1945. The look and feel of St. Martin's today is very different to the tranquil quarter it was back in 1840. At the time of Engels' arrival, the city was dominated by mercantile houses and warehouses with their ornate gables, but virtually all are now lost. Despite being hit by bombs, St. Martin's Church, dating from 1229, and Neander House are still standing in their original location. Friedrich Engels did a splendid drawing of the church for his sister Marie:

A little further down from the church is the Schlachte embankment, which was the city's main loading and unloading point for imports and exports until the development of the free ports (1885-88). Piled up behind the quayside were bales of cotton and tobacco, sacks of rice, cocoa and coffee, and various other exotic goods.

The busy shipping traffic that was common in Engels' day is also a thing of the past. Today's container ships dock instead at the long quays in Bremerhaven. Because Engels lived and worked only a few steps away from the Schlachte, he saw every day how difficult it was to bring goods from punts and barges ashore via steep jetties, and then to transport them to mercantile houses and warehouses.

Today, the Schlachte Embankment is known for its many places to eat and drink – and it was no different in 1840. Back then, almost every other building had a tavern in which the workers had breakfast or drank beer in their breaks.

During his time in Bremen, Friedrich Engels became a prominent journalist. Under his pseudonym Friedrich Oswald, he penned numerous essays and articles for the Telegraph für Deutschland as well as for the two influential newspapers published by Johann Cotta, the Morgenblatt für gebildete Leser and the Augsburger Allgemeine Zeitung, for which Heinrich Heine and Ludwig Börne also wrote. His articles showed great foresight that belied his age, although his readers never discovered just how young this Bremen correspondent actually was. An example: when the first fast screw-propeller steamer was tested in England in the autumn of 1840, Engels immediately recognised the revolutionary impact this would have on transport. In a piece for the Morgenblatt für gebildete Leser, he outlined how the combination of different modes of transportation would make mass tourism possible.

"Once a beginning is made with a steam packet-boat service between Germany and the American continent, the new equipment is bound to be developed quickly and have the greatest consequences for the linking of the two countries. We will not have to wait long before we can reach New York from any part of Germany in a fortnight, see the sights of the United States in a fortnight, and be back home again in a fortnight. A couple of railways, a couple of steamships, and that's that; since Kant eliminated the categories of space and time from the sensory impressions of the thinking mind, mankind has been striving with might and main to emancipate itself from these limitations materially too."

In addition to his work at the trading house and his prolific output as a writer, Friedrich Engels also found ample time to meet friends, acquaintances and businessmen. He regularly visited social clubs, where he was only too happy to discuss economic and political issues. Among his favourites were the Bremen Ratskeller, which had already inspired Heinrich Heine and Wilhelm Hauff to literary excellence, and the Union von 1801, a merchants' club that is still active today.

Engels was like part of the furniture in the local bookshops; he joined the Bremen Singing Academy and attended plays and concerts. In early 1841, he made reference to the cultural scene in Bremen in an article he wrote under his pseudonym Oswald:

"Bremen eyes literature suspiciously since it has not got a very clear conscience with respect to it and is not usually treated very gently by it. And yet with its position and political conditions Bremen is undeniably better suited to be a centre for the culture of North-West Germany than any other city. If only two or three capable men of letters could be attracted here, it would be possible to found a journal which would have a most important influence on the cultural development of North Germany. The bookdealers of Bremen are enterprising enough, and I have heard it said already by several of them that they would be glad to provide the necessary funds and willing to bear the probable losses of the first few years of publication. The best thing about Bremen is its music. There are few towns in Germany with so much and such good music as here. A relatively very large number of choral societies have been formed and the frequent concerts are always well attended."

In his Bremen years between the ages of 18 and 20, Friedrich Engels developed all the skills that he soon afterwards put to use as co-author of the Communist Manifesto and as an ever-reliable motivator and advisor to Karl Marx, whose defining work Das Kapital would not have come to fruition without him. But it was not by chance that Engels – under the widely recognised name of Friedrich Oswald – was able to lay the foundation for a career that changed the world in Bremen. Nothing and no-one stood in his way in this city. Between 1838 and 1841, he voraciously read democratic journals, all kinds of newspapers and magazines, chapbooks, works by Goethe, writings by Börne and virtually every new publication by the young generation of German writers. He would either sit in his favourite spot in St. Martin's parish garden with views of the river Weser and the Schlachte, in his lodgings, at the trading house or on the warehouse floor, or in the reading room at the Union club. He also considerably broadened his knowledge of shorthand and foreign languages.

During his Bremen years, Friedrich Engels lived a double life – that of a genial merchant's clerk, a lodger and an enthusiastic drinking partner. And that of a journalist, commentator and intellectual, writing about literature, society and religion under a pseudonym. The liberal city of Bremen offered the talented industrialist's son conditions that played an instrumental part in his incredible development: an employer who was unusually tolerant, a landlord and landlady who allowed him every conceivable freedom, a censorship commission that was remarkably restrained, a well-established music scene, and societies that fostered the education of young businessmen.

That said, the sharp social commentator Friedrich Engels did have his criticisms of the people of Bremen. In one of his articles for Johann Cotta's Gebildetes Morgenblatt in July 1840 he wrote:

"For the rest, life here is rather monotonous and small-townish; the haute volée, i.e., the families of patricians and monied aristocrats, are spending the summer on their landed estates; middle-class ladies even in this fine period of the year cannot tear themselves away from their tea-parties, where cards are played and tongues wag; and the merchants day after day visit the museum, the stock exchange, or their club, to talk about coffee and tobacco prices and the state of the negotiations with the Customs Union; few go to the theatre. – Interest in the current literature of the Fatherland as a whole is not to be found here; it is pretty generally held that Goethe and Schiller set the copingstones of the arch of German literature, and that in any case the romantic writers served only as later ornamentations. People subscribe to a reading-club, partly because it is the fashion, partly because a siesta can be more comfortable with a periodical; but they are interested only in scandal and anything that the papers may say about Bremen. With many educated people this apathy may of course be due to lack of leisure, for here the merchant especially is always compelled to keep his business in mind, and any time he may have left over is taken up by the duties of etiquette towards his usually numerous relatives, visits, etc."

Friedrich Engels disclosed to a friend that he had cultivated a "cocky, would-be student air" in the Hanseatic city. It was, so to speak, a way of compensating for what his father had denied him – the much longed-for opportunity to study at a university. But on no occasion did he boast publicly about the reputation he had gained, and consolidated, among readers, editors and publishers since he had started writing under the pseudonym Friedrich Oswald in 1839. The self-taught student and writer possessed a great deal of self-control and discipline (which would not have been easy for such an active young man) when it came to his continued public silence about the work of his other self. He spoke only to his closest school friends, on whose discretion he could rely, about his critical thoughts on religion and his literary achievements.

By the time Friedrich Engels left Bremen in the Easter of 1841, his thoughts on landowners indicated he had already taken a step on the path to his socialist world view:

"As if one generation had the right to dispose absolutely of the property of all future generations, which at the moment it enjoys and administers, as if the freedom of property were not destroyed by so disposing of it that all descendants are robbed of this freedom!"

In later life, Friedrich Engels was known for teaching the ideas of the workers' movement. He laid the foundation for this in Bremen. By the time his groundbreaking empirical work The Condition of the Working Class in England was published in 1845, it was abundantly clear how life in Bremen had shaped his views. Friedrich Engels made an enduring contribution to social progress in the 19th and 20th century. We must also remember that in his last major work, the introduction to Marx's Class Struggles in France, 1848 to 1850, Engels argued that the seizure of political power by the working class must be done through peaceful and democratic means – in other words, by utilising and expanding the democratic instruments of the bourgeois state and with the support of the majority of the people.

A story in itself
A brick building from the 1960s now stands roughly at the site of the merchant's house that was so familiar to Friedrich Engels. The lower two floors of this building are adorned with a slightly modified rococo sandstone facade. This is the facade of the original building with the original door through which the young Engels would have passed every day. Truly a story in itself.

The rococo facade dating from 1755, which adorned the front of Heinrich Leupold's house on Martinistrasse 11 (built in around 1600), was, at the time of the building's demolition in 1897, moved to a house in nearby Langenstrasse. This house was destroyed in bombing raids on Bremen's old town in October 1944, but most of the historical facade was saved. In 1965, the owner of the building, Dr Heinrich Ahrens (1903-2002), had the facade integrated into his new building on Martinistrasse – now house number 27. Ahrens, an insurance broker by trade, knew only too well why he wanted the recovered bricks to tell their story. In 1944, while serving as a soldier, he was put into a Soviet prisoner of war camp and experienced, as he later wrote, "ten dark years in Russian captivity" with compatriots from Bremen. When one of them discovered the Bremen letters by Friedrich Engels in the German edition of Marx and Engels at the camp, the book was passed around from one to the other. Battling hunger and illness and the freezing temperatures of Siberia, Heinrich Ahrens was able to find the strength he needed to survive through "these peaceful pictures of our dear Fatherland". Ahrens was released in 1954. With the help of his friend, publisher Dierk Rodewald, he had a selection of Engels' Bremen letters published in 1966.

Text: Johann-Günther König
Recommened reading
Johann-Günther König: Friedrich Engels. Die Bremer Jahre. 1839 bis 1841. [Friedrich Engels. The Bremen Years, 1839 to 1941] Includes all letters, writing and drawings from the new complete works of Karl Marx and Friedrich Engels as well as a detailed biography of his time in Bremen. 608 pages. Kellner-Verlag, Bremen / www.kellnerverlag.de
You might also be interested in...