The Christmas Market in Bremen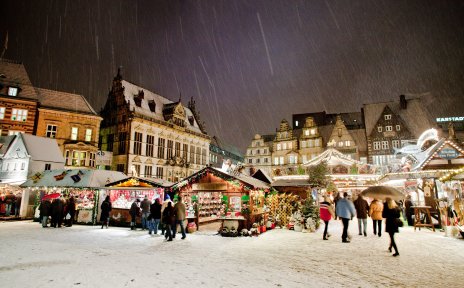 Enchantment for Young and Old
Quelle: WFB - T. Vankann
Please check with the organizer whether the event or the market will take place as planned or whether the respective cultural institution is open.
Every year the Hanseatic city of Bremen puts its Christmas garments on: Glowing lights, bustling booths and the scent of candles invite you amble through the town. Enjoy a charming shopping excursion in the festive atmosphere!
Where & When
At the "Bremer Marktplatz"

November 22 to December 22, 2021

Mon. to Thu. 10am - 08:30pm
Fri. to Sat. 10am - 09pm
Sun. 11am - 08:30pm
For so many of us, the time before Christmas is often hectic: Gifts and a tree have to be purchased, the decorations need to be put up, and the holiday party planned. How quickly it can all go by without celebrating this special time - the advent season. Savour this very special time of the year with a visit to the Bremen Christmas market.


Bremen transforms itself into a Christmas wonderland

Every year for the advent season, the numerous stands and booths in Bremen's city centre invite you to browse and shop, linger and chat over a Glühwein. Between the town hall and the town musicians, the Roland and Schütting, a winter village comprised of booths and carousals appears, where the fragrance of beeswax and Glühwein, delicious pastries and tasty hot sausages tantalise your senses and your tastebuds.

Savour the festive Christmas Atmosphere

Browse the different stands in all their variety; culinary delights, original gift ideas, and accessories to keep you and your loved ones warm and cosy. You'll find all the Christmas presents you need here. And while you're at it, take time to sample the delicious treats in the enchanting atmosphere of glowing Christmas lights and festively decorated houses.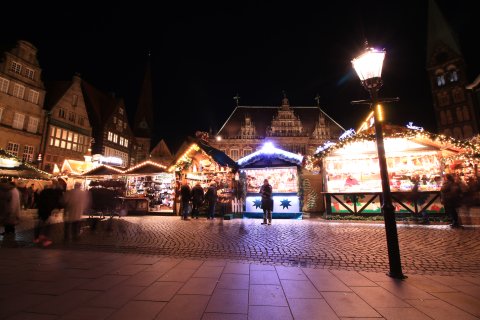 Quelle: Katharina Müller / WFB
You might also be interested in...