Bremen Ratskeller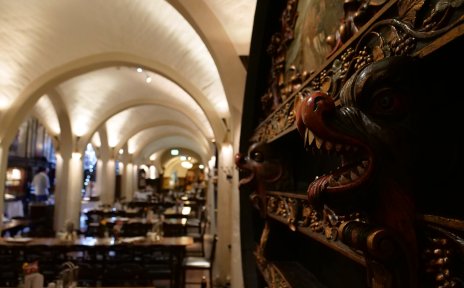 Historical restaurant beneath the town hall: 600 years of tradition, 650 German wines, grand hall with ornate wine barrels & columns, vaulted cellar, speciality Bremen fare.
Quelle: WFB - MKA
Bremen Ratskeller impresses visitors both with its appearance and its contents. Local specialities are served beneath its vaulted ceilings, and there are separate booths, called Priölken, available to those who prefer more intimate surroundings. However, you are only allowed to shut their doors if there are more than two people inside.
Over the years, some notable figures have enjoyed spending time at the Bremen Ratskeller: the German poet Heinrich Heine was inspired to put his experience into verse, and Wilhelm Hauff based his novella Phantasien im Bremer Ratskeller here.

"Happy is the man who has reached port, who has left behind the sea and the storms, and who has found a warm and quiet berth in Bremen's Ratskeller."
(Heinrich Heine)

The Ratskeller is sometimes described as the 'vintage' town hall cellar, an epithet it owes to the wines served in the restaurant and stored in its wine cellars. The 'treasure chamber' contains exquisite bottles, while the rose cellar houses Germany's oldest cask wine.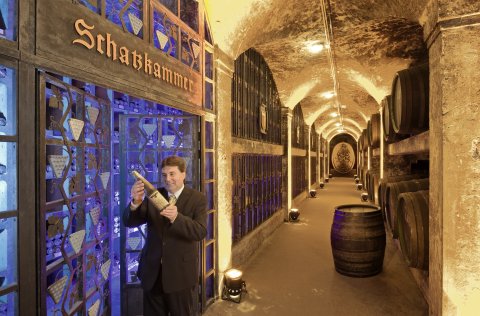 Germany's oldest cask wine is stored in the Bremen Ratskeller
In the depths of Bremen's historical Ratskeller beneath the 600-year-old town hall (UNESCO World Heritage) – well protected from light and air – lie Germany's oldest cask wines, maturing undisturbed. Upon entering the room, lit only by candlelight, the smell of the casks and the wine gives a hint of the centuries-old treasures stored here. Beneath a rose painted on the ceiling lies the heart of the cellar, the rose cask. Contained within is the famous rose wine, a vintage Rüdesheim wine from 1653.
The name rose wine does not refer to its colour, by the way. Back in the olden days, a high-quality wine was likened to the most beautiful flower, the rose. Although the wine is still fit to drink, it very rarely is, because it is absolutely priceless. Only the cellarmaster and the current mayor of Bremen are allowed to sample it. But even they hardly ever make use of their prerogative in order to preserve this noble vintage for as long as possible. However, Queen Elizabeth II of Great Britain did get to try a thimble's worth during her state visit to Bremen in 1978. Her reaction is not recorded, but she would have experienced a delicate sherry aroma, as the ancient wine now has little in common with an ordinary red.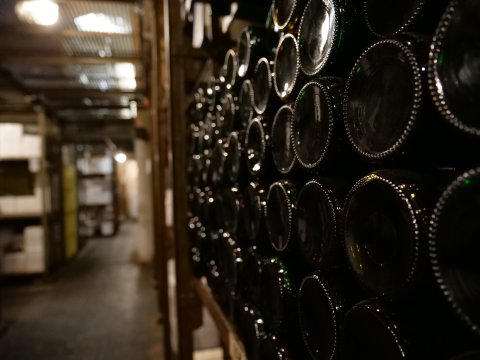 Take a deep breath of history – a tour of discovery in Bremen's wine cellar.
Quelle: WFB - MKA
You might also be interested in...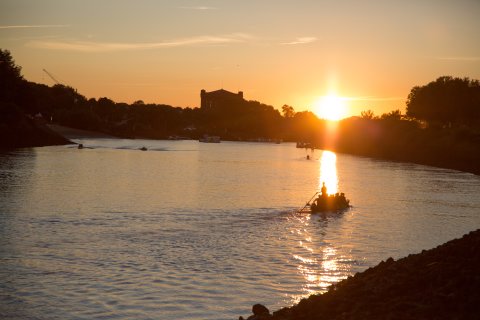 Tips for a one-day visit to the city on the Weser.
Quelle: WFB Wirtschaftsförderung Bremen GmbH / Jens Lehmkühler