Sweet Delicacies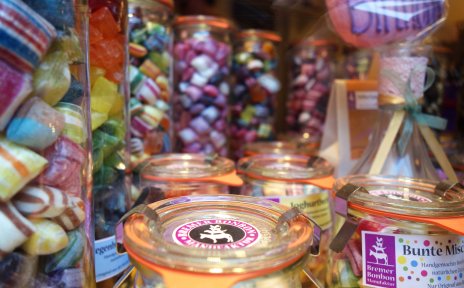 If you've got a sweet tooth, you've come to the right place. Bremen will get your taste buds tingling with its chocolates, sweets and ice cream cakes!
Quelle: WFB/Ingrid Krause
In artisan workshops all over Bremen, local producers put their heart and soul into creating the most wonderful delicacies, including sweets, handmade chocolates, klaben fruit loaf and gingerbread liqueur. These make the perfect souvenir for visiting tourists. Many producers also open their doors to the public for a chance to see how the finished product is made.
Local recommendations
Fancy something cooling and sweet? It simply has to be ice cream. Check back soon for our upcoming article on organic farm Kaemena, which is making waves with its ice cream and its milk vending machine. Bremen also has a super-cool ice cream parlour in the shape of Creamlovers.
We've already blogged about Bremen's chocolate scene. You can take part in a chocolate workshop in Neustadt or at Schröter's im Schnoor, where they're so busy making delicious chocolates (not to mention fantastic ice creams) that they don't have time to update their website. So, it's best to give them a call to find out more. Bremen's best-known chocolate brand is undoubtedly Hachez, who have a beautiful shop on the market square where you can stock up on chocolate treats and other Bremen specialities, such as tea and coffee. And just next door you'll find Martinshof selling their exquisite handmade jams and marmalades.
Kaffeebrot, klaben, kluten, babbeler … Bremen has its fair share of sweet treats, all of which make excellent souvenirs. Visit Schnoorkonditorei for a fantastic selection.
No trip to Bremen is complete without cake. We'd thoroughly recommend a slice of schneemustorte ice cream cake at Raths-Konditorei Stecker on the market square. Or the gooseberry meringue torte at Kaffeehaus Classico, best enjoyed with a cup of Lloyd coffee while admiring the view of the UNESCO World Heritage town hall. Then there's the extensive cake counter at Knigge, a stalwart on Sögestrasse since 1889. Most of the new cafés in Bremen also serve vegan-friendly options.
In a couple of places, you can even see culinary creations come to life: watch lebkuchen being made in Überseestadt or sweets taking shape in Böttcherstrasse. It's sure to leave you hungry!
They even make honey in Bremen. The cathedral bees' honey is sold in the Markthalle Acht market hall on Domshof square, among other places. The roofs of Hotel Munte am Stadtwald and the Kunsthalle gallery are also abuzz with hard-working bees. And an extra tip from Meike: in the summer months, the STROM Restaurant in Sail City Bremerhaven makes delicious ice cream from its own honey. That brings us neatly back to where we started: ICE CREAM!
And Sonja has a recommendation for the perfect sundowner – a cold glass of Union Pils at the Weserbogen boathouse. After a lovely slice of cake, naturally …
You might also be interested in...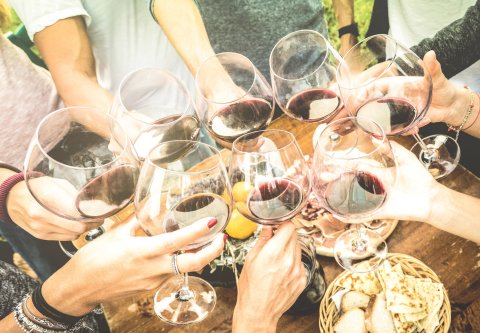 Whether you want to try your hand at brewing beer or simply sample fine wines, Bremen has something for every connoisseur.
Quelle: Fotolia / Mirko

Good food and good times in the Hanseatic City.
Quelle: BTZ Bremer Touristik-Zentrale / Jonas Ginter