Instacoffee - Bremen cafés on Instagram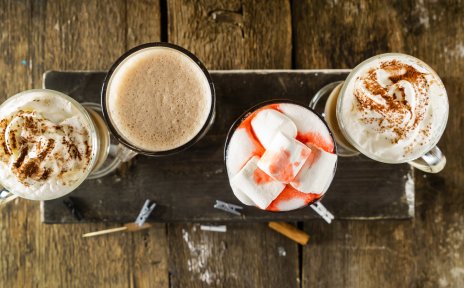 Check out some inspiring and instagrammable coffee hotspots in Bremen and show them off with an Instagram post.
Quelle: fotolia.com / Maksim Shebeko
Instagram and coffee are inseparable, just like prosecco and strawberries or beer and soccer. Bremen has several Instagram coffee hotspots on offer. We are showing you a few great Instapics from the Hanseatic city and are providing you with the most important information about the photo locations. Have fun instagramming!
PAPP
The café named PAPP is located in a busy area in the district of Bremen Neustadt. It is perfect for a short break from a stressful everyday life. In addition to espresso, cappucino, café latte or freshly brewed coffee from the French Press, the @papp.barcafe also offers drinks for adventurous coffee lovers like Coldbrew Shots or Coldbrew Tonic.
CrossCoffee
CrossCoffee is a relatively young Bremen-based company that roasts its own coffee. You can order their products online, but you should also stop by their physical store in the Überseestadt district. Besides purchasing delicious coffee, you can seek advice from the enthusiastic owners and attend various coffee, barista, and roasting seminars. You can get even more impressions via @cross_coffee.
YellowBird Coffee
Two ambitious residents of Bremen run YellowBird Coffee, a café for specialty coffee in the district of Bremen Neustadt. On top of that, the café features friendly and helpful staff, a cozy atmosphere, and a delicious selection of drinks and dishes that tempt visitors to extend their break a little longer. Check out their Instagram account @yellowbirdcoffee and eat with your eyes.
Harbour Coffee
In the Bremen Viertel, Harbour Coffee has established itself as a charming café that offers hand-filtered coffee in addition to espresso or latte macchiato. Treat yourself with a cinnamon bun surrounded by a maritime-style atmosphere. Collect first impressions of the cozy café via their own Instagram account @harbourcoffee.
Radieschen
A special place is Radieschen (in English: radish), which is closely located to the Buntentor cemetery in Bremen Neustadt. The interior is colorful and comfortable. The menu does not only feature coffee but also homemade cakes and snacks which are made from organic and fair-trade products. To keep memories alive and to provide a place for exchange, Radieschen is equipped with a corner for children, newspapers, and books. You may also bring along household items or recipes as a donation – at Radieschen they will continue to exist. Explore more about the café on Instagram via @radieschen_bremen.
Lloyd Caffee
The name Lloyd Caffee is probably familiar to most Bremen residents, as the traditional company exists since 1930. Lloyd Caffee is known as the oldest coffee roasting company in Bremen and is still roasting its coffee in a traditional way. Discover, drink, and buy their coffee varieties in their store in Vegesack. There is also a second location of the shop in the area of the Bremen Holzhafen. Any coffee gourmet will be in a good mood here. @lloydcaffeebremen will inspire you upfront.
Coffee Corner
Watch the world pass by with a great view through the window of the Coffee Corner Bremen. The café is directly located on Ostertorsteinweg, or more precisely in the corner of the highly frequented Sielwallkreuzung in the Bremen Viertel. Coffee Corner offers delicious hot drinks as well as a wide selection of salads, crepes or bagels. The charming window seats and the stylish decor make the coffee experience perfect. Take a look at Coffee Corner's Instagram: @coffee_corner_bremen.
Juli liebt Kaffee
Enjoy your coffee in a cozy atmosphere along with breakfast or a cake at Juli liebt Kaffee. All products are made with regional ingredients while the coffee comes from different roasting houses. In addition to homemade muesli, juices and sodas, you can choose from various types of teas. @juliliebtkaffee will keep you posted.








You might also be interested in...