Bremen experience gift cards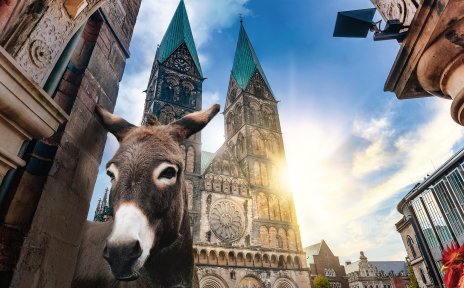 The perfect gift for any occasion – a Bremen experience gift card.
Quelle: Klemm Design/Jonas Ginter
What better gift than spending time together? From a culinary tour of the city to a boat trip on the Weser, a visit to the new exhibition or a complete package experience. But with so much to choose from, how can you decide? We take all the stress out of the decision for you with the Bremer experience gift card! Enjoy the pleasure of giving!
Follow these steps:
1. Visit: www.bremen-tourismus.de/bremen/voucher
2. Select the design. Choose from five different designs.
3. Select the amount. Choose a value between €10 and €250.
4. Personalise. Compose your own personal message. You can use up to 300 characters.
5. Choose the dispatch method. Decide whether you want to receive your voucher by email to print off at home or if you would prefer us to send it to you by post.
The voucher can be redeemed against all package deals, overnight stays, tours and experiences from Bremen Tourist Office. It is valid for three years.

The following designs are available
Dream now visit later!
In the age of coronavirus, it's not easy to make firm plans. But our desire to travel and plan exciting activities is undiminished. And the current situation is an ideal opportunity to find inspiration from the many attractions and activities on offer in this city by the river. Savour the anticipation with your loved ones and help each other through these exceptional times! The Bremen experience gift card is a great present for someone special at Christmas, for a birthday or simply as a little treat. #dreamnowvisitlater
Savour the anticipation
Bremen has its own special charm in every season. It's not just Bremen's impressive sights that attract visitors. With its maritime charm, culinary pleasures and annual cultural highlight events, Bremen is always worth a visit! So savour the anticipation and start planning your next trip to the Hanseatic city now!
You might also be interested in...