Maritime Festival Week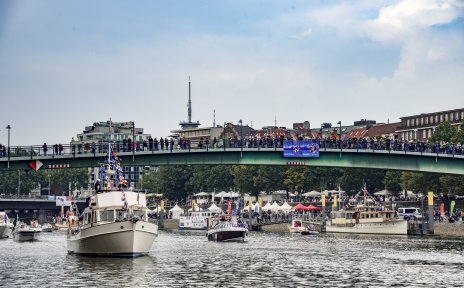 The ultimate seafaring and shipping event in Bremen at the Schlachte Embankement – featuring the Dragon Boat Cup.
Quelle: CityInitiative Bremen Werbung e.V.
Discover Bremen's maritime heritage. Even true landlubbers will enjoy exploring Bremen's seafaring and shipping heritage at the Maritime Festival Week on the river Weser.
A packed programme for everyone
There's something for everyone along the Schlachte Embankment, with a packed programme that features talks and readings on board the ships, film screenings on and by the water, a maritime market, tours of some of the ships and the Kutterpullen boat race.

Highlights this year will once again be the dragon boat race and the grand ship parade. Stroll beside the river Weser along the Schlachte Embankment, head across Ansgarikirchhof square, follow the streets of Hanseatenhof and Lloydpassage and all the while soak in the maritime atmosphere of this Hanseatic city.
When & Where
September 16 to September 18, 2022
You might also be interested in...