Theatre in Bremen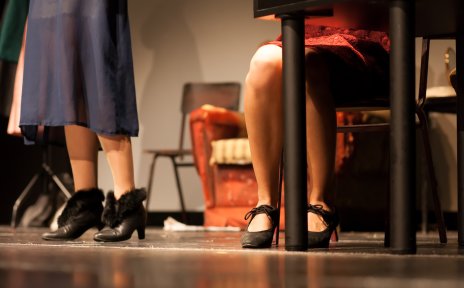 From grand operas to hit musicals, Shakespeare to Wallace, improv to puppetry - in Bremen there's a production for every theatre-goer. All the world's a stage so far as Bremen is concerned, and shows appear on water, in cellars and on huge stages. Curtains up!
Quelle: fotolia.com / aerogondo
Bremen Theatre
Bremen Theatre is a municipal theatre that is known throughout Germany. It is considered a public forum for aesthetic and political reflection on the problems, risks, liberties and pleasures of modern urban life. The theatre on Goetheplatz square covers four genres (music theatre, plays, dance, and children's and youth theatre) and has four permanent venues, Theater am Goetheplatz, Kleines Haus, Moks and Brauhauskeller. Each season, the diverse programme features more than 30 premieres and 600 performances, as well as concerts, readings and parties. Introductions to plays, audience discussions after performances and series of talks encourage a direct dialogue with the public.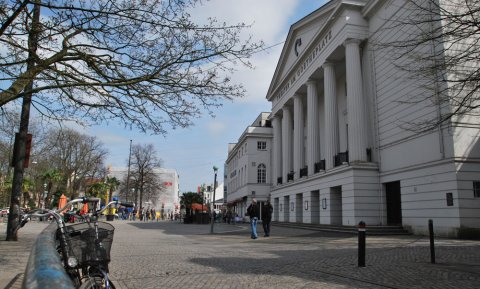 Quelle: bremen.online GmbH/JUA
Bremen Shakespeare Company
Bremen Shakespeare Company (BSC) was founded in 1983 by a handful of actors. It is still self-financing and there is no artistic director at its head. BSC's productions invariably break new ground – with the full support of its loyal followers, who are often an integral part of its work. At the open rehearsals, audiences are given an unmediated insight into the work in progress. In addition to BSC's many performances, touring productions and coproductions, for example with Bremen University of the Arts, one highpoint of every season is the Bremen Summer Theatre Festival, when BSC performs outdoors in the Bürgerpark. Tickets are always in high demand. Owing to building work at the Theater am Leibnizplatz, in 2012 Bremen Shakespeare Company will be performing in various different Bremen venues.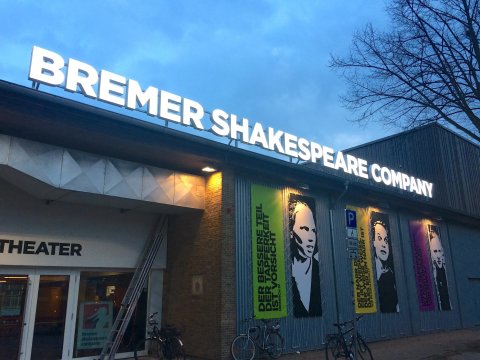 Quelle: Annette Ruppelt / bremer shakespeare company
GOP Varieté Theater Bremen
Fans of contemporary variety theatre will be right at home in Bremen's Überseestadt district. The GOP Variety Theatre and the adjacent Steigenberger Hotel are located by the waterside in the Weser quarter at the eastern entrance to Überseestadt. Bremen's new GOP Variety Theatre will stage imaginative and engaging performances for all the family featuring internationally acclaimed acrobats and entertainers, outstanding dancers, exceptional comedians and gifted musicians. In the stylish surroundings of the theatre, which combines clean, modern lines and warm tones, visitors will have an excellent view of the stage from all 400 seats and can enjoy a variety of freshly prepared dishes at the GOP Restaurant before the show.
Fancy a look around the stage at the GOP theatre before going there? Then check out the 360° video clip on YouTube, or experience the virtual show with a VR headset – it's almost like you are there.

Quelle: bremen.online GmbH / KBU
Bremen Metropol Theater
Behind the glass facade on Richtweg you can find one of the most modern theatres in Germany. Located right at the heart of Bremen's city centre, the Metropol enjoys excellent transport links and benefits from an adjacent car park. The theatre seats 1.450 guests on three levels. In addition to presenting top-quality theatre productions and concerts in the elegant theatre auditorium, the spacious foyer with its sophisticated ambience is an excellent venue for all sorts of events, from small trade exhibitions and conferences to company meetings and parties. At an artistic level, the theatre is host to a constant stream of German and international productions. From a candlelit dinner for two to a major event for 2,000 people, the excellent catering service rounds off the cultural experience with a wide range of culinary choices, always tailored to the specific event.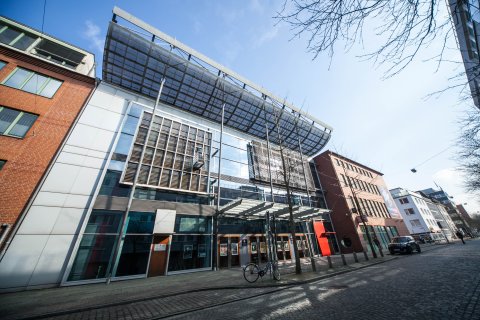 Quelle: Metropol Theater Bremen
FRITZ theatre & bar
Plays, musicals, revue and more in a beautiful theatre restaurant close to the train station, with a basement comedy club: Let yourself be captivated, enchanted and entertained – and enjoy some fine food while you're there. The FRITZ captivates locals and visitors alike with its distinctive brand of dining with entertainment. The theatre has row seating for 350 guests or table seating for 160, a large stage and comfortable, velvet-covered chairs, with food served during most performances. The programme is varied and features comedy, musicals, concerts, revues and many guest appearances.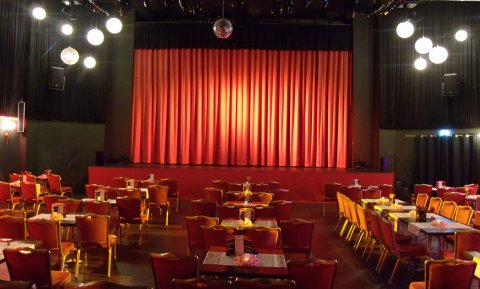 Quelle: Fritz Theater
Bremen Theatre Ship
Comedy, revues, cabaret and mediterranean cuisine on board a converted riverboat. An unforgettable experience! Bremen Theatre Ship is a converted barge berthed along the Schlachte Embankment. A variety of performances are staged in the barge's hold – though with comedies and musical shows featuring the popular German schlager music, the emphasis is very much on having fun. Bremen Theatre Ship also hosts touring shows and the Jazz on Board programme (on Mondays). Food and drink is available in the Bühne 3 bistro.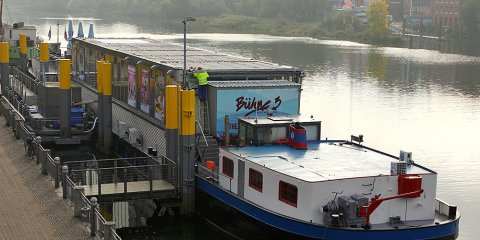 Quelle: Rike Oehlerking / BTZ Bremer Touristik-Zentrale
Mensch, Puppe!
Mensch, Puppe! brings together puppetry and drama in all their many forms, exploring the contrasts between man and material, reality and fiction. With the use of puppets, masks, bodies, voices, music and the imagination of the audience, the unspoken becomes heard, the invisible becomes seen, and famous and lesser-known stories for children and adults come to life before your very eyes. Mensch, Puppe! appears at the theaterkontor (a workshop space for Bremen's creative scene) at the heart of the Viertel district of Bremen, as well as making guest appearances throughout Germany and at festivals in German-speaking countries. The theatre also collaborates with the Bremen Philharmonic Orchestra, the Kunsthalle art gallery and Bremen Shakespeare Company on various productions.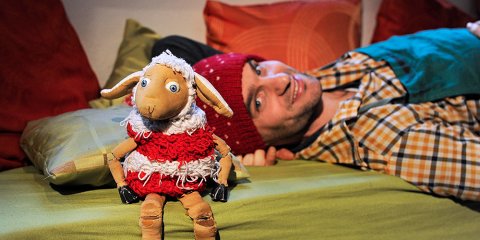 Quelle: Marianne Menke
Bremen Improv theatre
Improvisational performance is a contemporary yet age-old form of theatre. Actors and actress perform completely off the cuff, without a written script and usually without a stage set. They rely solely on the inspiration of the moment – and on their years of training! It might result in a story lasting all evening, a madcap sequence of scenes or off-the-wall comedy – and it is always a highly dynamic form of theatre. Every evening is a one-off performance. And it's a form of theatre where audience interaction is positively encouraged! The programme is an ambitious mix of different shows. The Improv Theatre in Bremen brings together actors and actresses from all over Germany and has long been synonymous with improvisational performance of the highest quality. It has run its own small theatre in the city, exclusively for this innovative form of theatre, for many years.

Quelle: fotolia / KALINOVSKIY
HafenRevueTheatre
Theatre with chansons and revues from the 1920s and 1930s. Talented artists provide exceptional vocals, wit and impressive performances. Bremen's first revue theatre is situated between the Überseestadt and Walle districts. Come in and have a drink at the Hafen bar right inside the theatre. Do you love popular songs, from Marlene Dietrich and Abba right through to Robbie Williams? If you like a good show, you will enjoy the large repertoire of costumes that the Hafen Revue Theatre has to offer, as well as the professional voices honed on stages around the world. The performers will whisk you away from your daily life into a world packed with stories of lust and suffering, of passion and sin, and of easy girls and tough guys. Enjoy comedy, music and drama at this docklands revue theatre famous for its down-to-earth programme that offers big laughs and big entertainment, with guests such as Fips Asmussen and the vocal artists Musikrevue, a Bremen group who have enjoyed success across Europe and are finally back on stage in Überseestadt. The design of the theatre's bar and stage recalls the docklands of the 1950s. The Hafen rooms are open to touring shows by other performers and are available for hire as a venue for private and corporate functions out of season. An individually tailored programme of events can also be arranged and includes catering provided by our long-standing partners.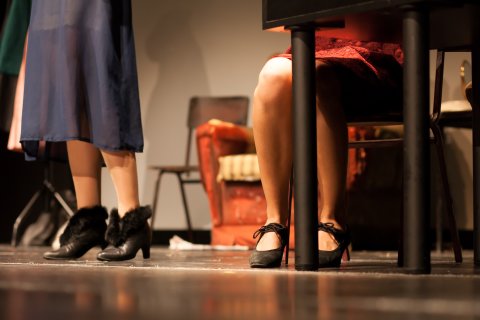 Quelle: fotolia.com / aerogondo
Bremen Crime Theatre
All forms of theatre combining crime and drama: from Sherlock Holmes to Kurt Wallander, from thrillers to crime comedies. Join Bremen's Crime Theatre on a journey into a world of crime and evil deeds. Experience your next murder at close quarters in full, gory colour! The theatre has the 'criminal' intent to combine the professionalism, spirit of experimentation and quality of entertainment of other Bremen theatres into their own productions.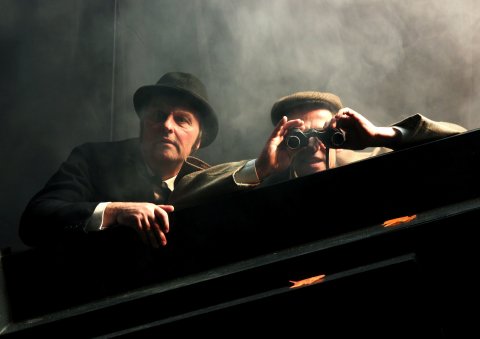 Quelle: Claudia Hoppens










You might also be interested in...