Christmas market and Schlachte magic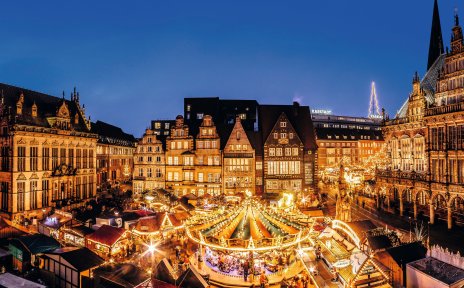 During the Advent season, Bremen's market square and the Schlachte promenade shine in festive splendour: the city's Christmas markets have begun.
Quelle: WFB/Jonas Ginter
The historic Hanseatic city of Bremen is a dazzling sight in the festive period. From a World Heritage Site illuminated by shimmering lights to a mediaeval atmosphere by the water, ice skating in the north and stylish festive shopping fun - Bremen has a lot to offer when it comes to Christmas markets. Here are a few examples...
Festive lights around the World Heritage Site
From 23 November to 23 December 2020, the area around the Town Hall and the Roland statue (a UNESCO World Heritage Site) is transformed into a festive wonderland. With over 170 decorated stalls, the atmospheric Bremen Christmas Market is an ideal place for a leisurely browse. It is regarded as one of Germany's finest Christmas markets. The historic setting, lovingly decorated stalls and stands, and romantic Christmas lights create a very special atmosphere that attracts increasing numbers of visitors each year.
Bremen is illuminated at Christmas time: festive lights, flickering candles and lovingly decorated stands create a very special atmosphere that attracts increasing numbers of visitors each year. Wherever you go, the air is filled with evocative aromas of freshly roasted almonds, traditional gingerbread cakes and mulled wine. In front of the UNESCO World Heritage Site of the 600-year-old Town Hall, over 160 Christmas stalls transform the historic market square and shopping arcades into a romantic Christmas scene.

A circular path bedecked with festive lights takes you from the Christmas market to Bremen's central artery, the River Weser. In the weeks before Christmas, the popular riverside promenade becomes the setting for the historic "Schlachte-Zauber" winter and maritime market.

From organ recitals to nativity plays, magical theatre shows and festive exhibitions: a varied programme of festive events for all ages is organised each year by Bremen's cultural institutions.
Weihnachtsmarkt
Quelle: WFB/Jonas Ginter
Weihnachtsmarkt
Quelle: WFB/Ingrid Krause
Weihnachtsmarkt
Quelle: WFB/Jonas Ginter
Weihnachtsmarkt
Quelle: WFB/Jens Hagens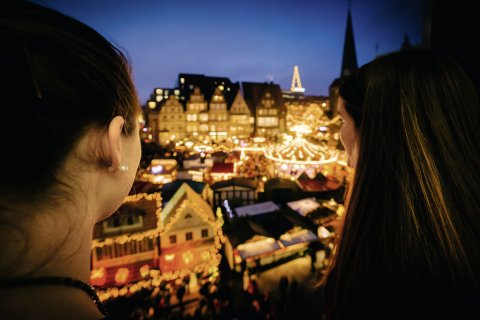 Travel-package for two
Quelle: WFB/Jonas Ginter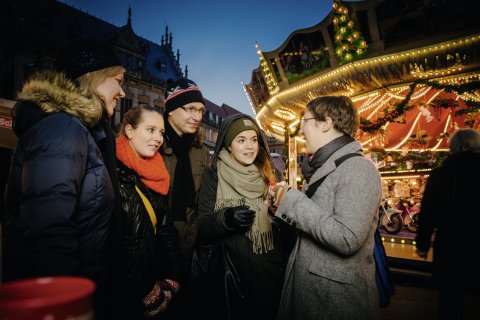 Guided tour for groups
Quelle: WFB/Jonas Ginter
"Schlachte-Zauber" on the embankment of the Weser
The River Weser turns into a hive of festive activity, with boats shimmering in the blue light at the quay and the air filled with wafting aromas of smoked fish and freshly baked bread: From 23 November to 23 December 2020, the "Schlachte-Zauber" will take up residence on Bremen's river promenade, bringing with it a historic, wintry and maritime atmosphere.

Make your way past the defence towers, behind the impressive wooden palisades to find yourself transported straight back to the Middle Ages. A bustling village scene is brought to life by the Fogelvrei performing group, with spice merchants' stores filling the air with a heady blend of frankincense and oriental spices, mingling with tempting aromas of roasting meat. The pounding of the blacksmith's hammer rings out loudly, as other craft workers, from potters to felt makers and turners, go diligently about their tasks. Visitors can sip mead, fruit wine or even a love philtre in the taverns and listen to the minstrel's songs, accompanied by the atmospheric creaking of the wooden boards of historic ships on the river. Industrious craft workers, grumbling innkeepers, jugglers and minstrels... A glimpse into the city's past, back to the days when cogs laden with precious cargo used to dock in the Hanseatic city.

Food huts in the beer gardens of surrounding restaurants are lovingly decorated in rustic style, an ideal place for a warming mulled wine.

The city's famous Böttcherstraße provides a scenic and direct route from the Schlachte river promenade to the Christmas market in the market square.
Schlachte-Zauber
Quelle: WFB/Jonas Ginter
Schlachte-Zauber
Quelle: WFB/Jonas Ginter
Bremen city centre – a magical sight!
Bremen city centre is transformed during the festive period, with festive lights casting a warm glow over houses, decorated alleyways and special Christmas window displays in stores offering an international selection of goods. Enjoy a leisurely stroll through the historic city centre and find perfect gifts for the whole family.

The city centre is easily accessible:
- by public transport - from the "Brill", "Domsheide", "Obernstrasse" and "Schüsselkorb" stops
- by car - following the new car-park routing system to Bremen city centre (Bremer Innenstadt) car parks.
- by coach - following our coach parking scheme
Sögestraße
Quelle: Katharina Bünn
Lloyd-Passage
The Lloyd Passage shopping arcade has everything you need. During store opening hours you can take a relaxed stroll and browse through the many shops. After the shops have a closed there is a choice of restaurants to tempt you.
Quelle: Wirtschaftsförderung Bremen GmbH / Katharina Bünn
You might also be interested in...

Good food and good times in the Hanseatic City.
Quelle: BTZ Bremer Touristik-Zentrale / Jonas Ginter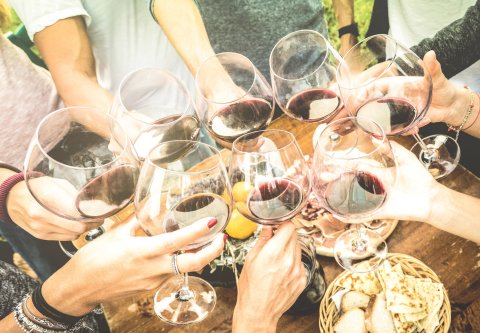 Whether you want to try your hand at brewing beer or simply sample fine wines, Bremen has something for every connoisseur.
Quelle: Fotolia / Mirko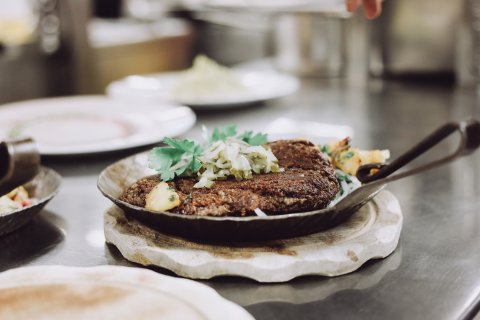 Discover Bremen's traditional hearty fare in restaurants and on guided tours.
Quelle: Katja Thiele / plan B Werbeagentur