Bremen for lovers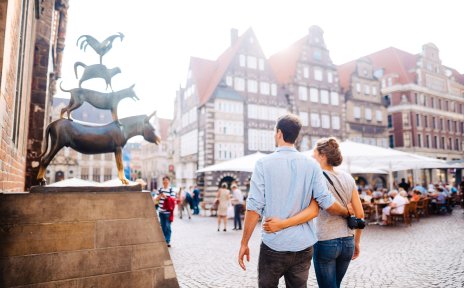 All the romance of the Hanseatic city
Quelle: WFB/Jonas Ginter
From a romantic weekend to a relaxed holiday or a chance to enjoy special experiences with your sweetheart – find inspiration and plan memorable moments with your loved one. Whether a Valentine's Day trip, a special Christmas surprise, an anniversary celebration or simply a little treat: leave everyday life behind and enjoy some quality time together. Feel your heart skip a beat and celebrate the magic of love in the enchanting setting of the Hanseatic city.
Inspiration for special dates
Although time together is surely the greatest gift of all, you might be looking for ideas to make your date even more memorable with a special surprise. We have lots of inspiration for you.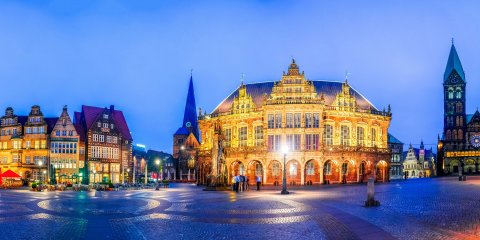 You can find a selection of package deals here for your romantic trip by the Weser
Quelle: Adobe Stock / Sina Ettmer
Explore the city together
The Town Musicians, UNESCO World Heritage, the twisting lanes of the Schnoor district and Böttcherstraße – Bremen has so many sights for you to discover with that special someone. Explore the city's many attractions together and enjoy romantic moments in the historic setting of the city by the Weser. Whether you take part in a guided tour or prefer to discover the city on your own, this is an opportunity to share experiences and make lasting memories.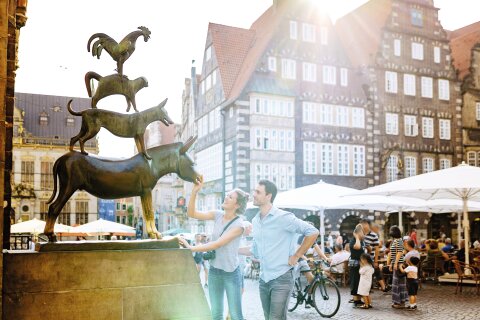 Inspiration for a short break with someone special
Quelle: WFB/Jonas Ginter
You might also be interested in...