Roland statue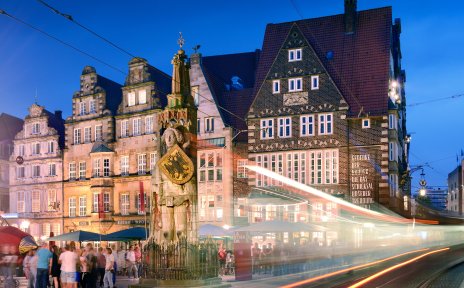 Bremen's "statue of liberty" - a symbol of trading rights and freedom since 1404. Germany's largest Roland statue.
Quelle: Francesco Carovillano / DZT Deutsche Zentrale für Tourismus e.V.
There are Roland statues in many German towns and cities, symbolising freedom and market rights. Bremen's Roland statue is one of the most beautiful, and, according to UNESCO experts, the most representative and one of the oldest examples. Together with Bremen's town hall, the statue received World Heritage status on 2 June 2004.
Measuring five and a half metres (with a baldachin bringing the total height up to just over ten metres), the stone giant was erected in 1404, after its wooden predecessor was destroyed by the archbishop's soldiers in 1366. The distance between its knees is exactly one Bremen 'elle', a historical unit of measurement. From the outset, the statue symbolised the freedom and independence of the city. Roland carries a shield bearing a coat of arms with the double-headed imperial eagle and the inscription:

Vryheit do ik yu openbar
de karl und mennich vorst vorwar
desser stede ghegheven hat,
des dankt gode is min radt.

Roughly translated, this means: "I manifest your freedom, as granted to this city by Charlemagne and many other rulers. For this, be thankful to God, that is my counsel". "Freedom" refers to the city's imperial immediacy, a form of sovereignty. Charlemagne was the 9th century Holy Roman Emperor. "And many other rulers" refers to the privileges and rights granted to the city of Bremen by a number of kings, princes and prince-bishops between the 9th and the 14th century.

With his long, wavy hair, a short, tight leather jerkin over his chain mail, a heavy, low-sitting belt (the dupfing), raised sword and armoured legs, the young knight is dressed according to the height of 15th century fashion. The lute-playing angel on the catch of his belt harks back to the time of minnesinging knights, which was then drawing to a close, in particular to the Song of Roland that had been popularised through the Guelph court. The knight was the idealised figure of the time, the gentleman of the Middle Ages, who was expected to behave nobly, in accordance with the code of chivalry. Roland is looking to the cathedral, the seat of the archbishop who had a claim to secular power over Bremen. The city council disputed this for centuries, ever since there have been bishops in Bremen. The free imperial city only accepted the rule of the emperor.
You might also be interested in...