Market square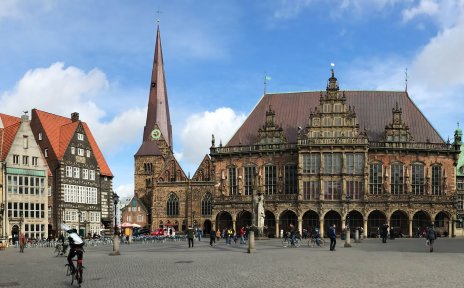 The market square is the focal point of Bremen.
Quelle: Privat
The most magnificent building on the market square is without doubt the town hall. In front of it stands the proud statue of Roland, which symbolises the freedom of the city. Both have been awarded UNESCO World Heritage status. Turning clockwise on the Hanseatic Cross near the statue, you can see St. Peter's Cathedral, the State Parliament and the Schütting guildhall. Just past the Schütting, a narrow lane leads to Böttcherstrasse. On the western side of the Kontorhaus shopping arcade follows a row of beautiful gabled buildings.
The western side of the market square
From left to right, we have the Sparkasse bank building with its 1755 facade, the Rathsapotheke (council apothecary) and the Akzise (customs house) from 1595 (replaced in 1830), followed by the more recent Deutsches Haus. This is the top of Obernstrasse – the ideal starting point for a shopping spree.
Bremen Town Musicians
Strictly speaking, the famous sculpture of the Bremen Town Musicians by Gerhard Marcks is not actually on the market square, but on Unser Lieben Frauen Kirchhof, which runs along the western side of the town hall.
You might also be interested in...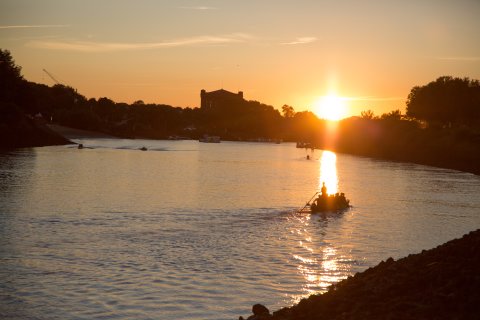 Tips for a one-day visit to the city on the Weser.
Quelle: WFB Wirtschaftsförderung Bremen GmbH / Jens Lehmkühler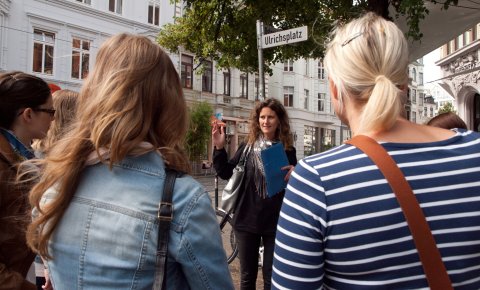 Enjoy an entertaining and informative tour accompanied by a guide.
Quelle: BTZ Bremer Touristik-Zentrale / Carolin Hinz