Picturesque harbours and Marinas to stay in Bremen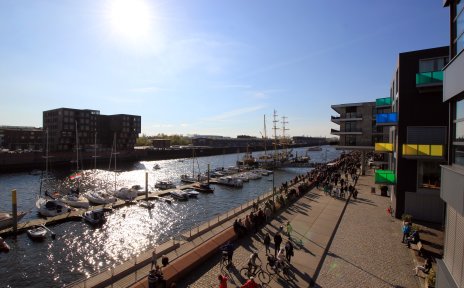 Well worth visiting: Old Weser harbours throughout Bremen that connect seafaring traditions and modern use as a marina.
Quelle: Katharina Bünn
All over Bremen leisure captains can find a suitable berth for their vessel. Bridging the gap between historical seafaring traditions and old harbour buildings on the one hand and current forms of use on the other, several old harbour areas now serve as marinas and picturesque spots for instagrammable sunsets.
Harbour in Überseestadt
In the modern development of Überseestadt visitors on boating holidays will find quiet moorings with all the facilities they need in Europahafen. Numerous restaurants are also within easy reach and short excursions into the city centre are easy thanks to direct bus and tram links. The moorings are particularly beautiful in the evening, when the sunset can be enjoyed in all its glory. And during the summer months nearby events offer a diverse programme of entertainment.
See what Ingrid experienced when cycling to Europahafen.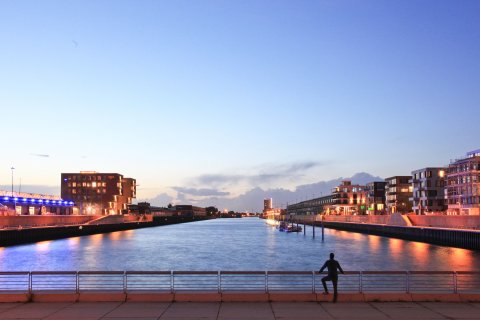 Quelle: WFB / Jens Lehmkühler
Old harbour in Vegesack
Vegesack harbour is the oldest man-made harbour in Germany. The first artificial harbour in Germany was built in 1622 when the river Weser became increasingly silted up and ships were no longer able to get into the heart of Bremen. From here the goods were transferred to smaller and lighter boats and ferried into the city. As maritime trade was increasingly conducted via Bremerhaven from 1823 onwards the importance of Vegesack harbour diminished. Right up until the 1970s it was still a mooring point for fishing boats. Today the museum harbour at Vegesack, with its 23 historical ships, harbour basin and Maritime Mile, is a popular spot for a stroll. It also hosts regular events such as the Lugger Market, the Maritime Festival and, of course, the Vegesack Harbour Festival.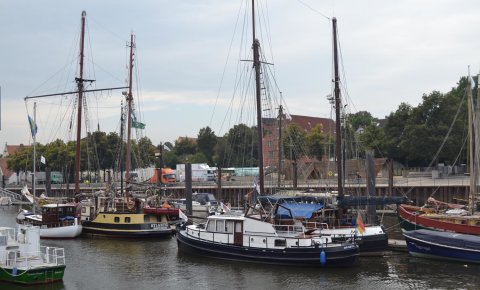 Quelle: Bremen.online / LLI
Marina Bremen
Right in Bremen's city centre on the Schlachte Embankment, you will find a mooring for recreational boats with power hook-ups and fresh water supply. Showers and toilets, bike hire for exploring the city and wireless internet are also available. The volunteer harbourmasters are happy to give advice and assistance to any skipper. News and information can be obtained from the notice board by the jetty. The jetty is open for docking during the winter; however, no service is available during this time.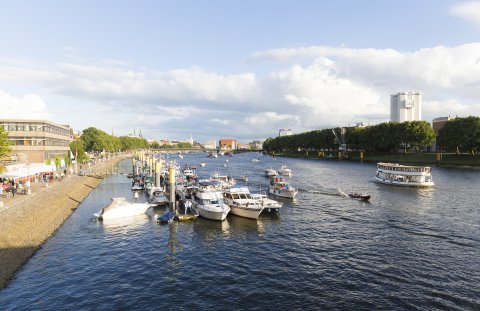 Quelle: WFB; Thomas Hellmann



You might also be interested in...