Christmas Markets in Bremen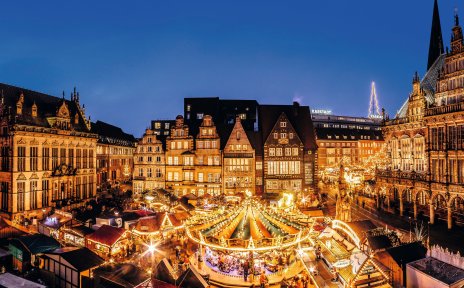 Please check with the organizer whether the event or the market will take place as planned or whether the respective cultural institution is open.
The historic Hanseatic city of Bremen is a dazzling sight in the festive period. From a World Heritage Site illuminated by shimmering lights to a mediaeval atmosphere by the water, ice skating in the north and stylish festive shopping fun - Bremen has a lot to offer when it comes to Christmas markets. Here are a few examples.
Festive lights around the World Heritage Site
The area around the Town Hall and the Roland statue (a UNESCO World Heritage Site) is transformed into a festive wonderland. With over 170 decorated stalls, the atmospheric Bremen Christmas Market is an ideal place for a leisurely browse. It is regarded as one of Germany's finest Christmas markets. The historic setting, lovingly decorated stalls and stands, and romantic Christmas lights create a very special atmosphere that attracts increasing numbers of visitors each year.
"Schlachte-Zauber" on the embankment of the Weser
The River Weser turns into a hive of festive activity, with boats shimmering in the blue light at the quay and the air filled with wafting aromas of smoked fish and freshly baked bread: The "Schlachte-Zauber" will take up residence on Bremen's river promenade, bringing with it a historic, wintry and maritime atmosphere.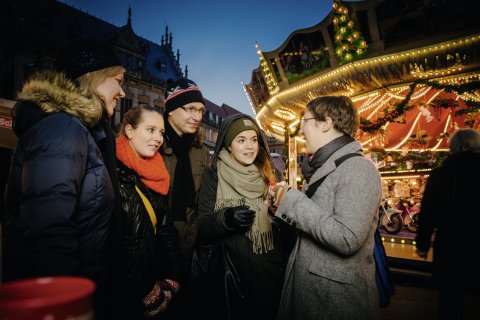 Guided tour for groups
Quelle: WFB/Jonas Ginter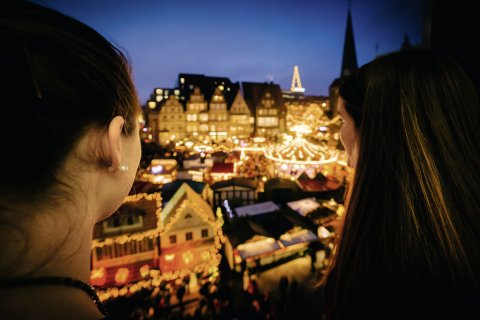 Travel-package for two
Quelle: WFB/Jonas Ginter
Bremen city centre – a magical sight!
Enjoy a leisurely stroll through the historic city centre and find perfect gifts for the whole family.
The city centre is easily accessible:
- by public transport - from the "Brill", "Domsheide", "Obernstrasse" and "Schüsselkorb" stops
- by car - following the new car-park routing system to Bremen city centre (Bremer Innenstadt) car parks.
- by coach - following our coach parking scheme
You might also be interested in...