Böttcherstrasse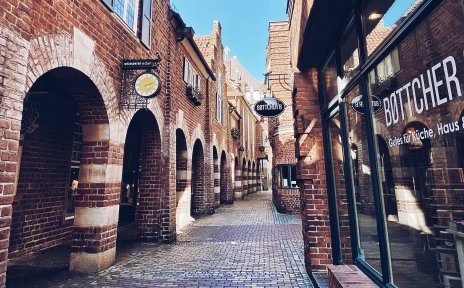 Built in the 1920s, this fascinating 110 metre-long lane houses shops and restaurants, museums, workshops and a carillon.
Quelle: Privat / JUA
The name Böttcherstrasse derives from the coopers (böttcher) who used to live and work there. Today, this narrow lane is home to arts and craft shops and studios. At the start of the 20th century, Ludwig Roselius, a local coffee merchant, began to buy up all the houses in the dilapidated street. He then had it completely rebuilt, resulting in a creation that is both homogenous and architecturally remarkable. With the help of architects Bernhard Hoetger, Eduard Scotland and Alfred Runge, Roselius – the inventor of decaffeinated coffee – achieved his goal, turning this pathway between the market square and the Weser river into a street of houses designed specially to be of architectural merit, in a mixture of art deco and brick-built styles that has a special charm all of its own. Roselius' principal aim was a return to traditional Low German culture in language, art and crafts.
Crafts and souvenirs
Top-class shopping in Bremen's oldest pedestrian area: on the way from the market square to the Weser river you can stroll round craft shops and small, exquisite boutiques, watch craftsmen creating glass and visit the Remember store. From 10 April to 20 December also on Sundays from 11am to 4pm.
Museum enthusiasts will immediately find what they are looking for in two places, in the museums on the Böttcherstraße. The museum at the Roselius-Haus holds an important collection of Northern German home décor, cultural and artworks from the Middle Ages to the Baroque period. In the Paula Modersohn-Becker Museum, the first house in the world dedicated to a painter, the works of the eponymous artist and special exhibitions are shown as examples of classical modernism.
The Handwerkerhof in the Paula-Becker-Modersohn-Haus is reserved for art which is currently ongoing. Since 1926, you have been able to see craftsmen at work here, and today you can also see goldsmiths and glassblowers producing their art before your eyes. It is also a pleasure to watch the live production of bonbons.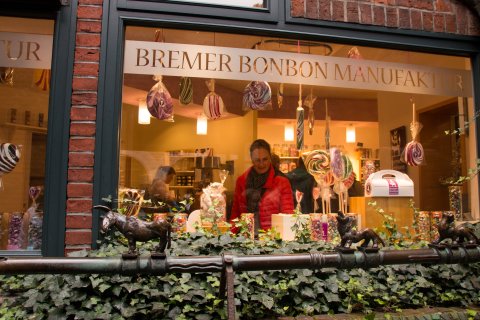 Quelle: Katharina Bünn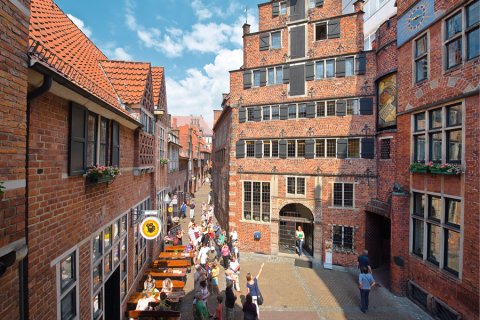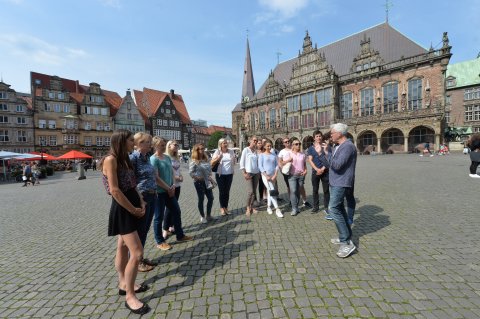 Guided city walk
Quelle: WFB/Michael Bahlo
You might also be interested in...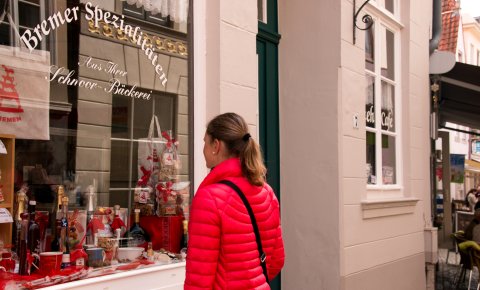 Would you like to take a piece of Bremen home with you? Or surprise your loved-ones with a little something from the Hanse city? Here are some tips for where you can find souvenirs that typify Bremen.
Quelle: Katharina Bünn