Kaffeerösterei August Münchhausen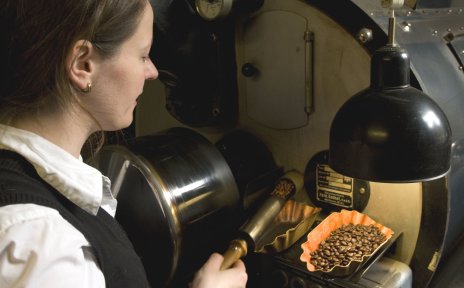 Find out about Bremen's history as a city of coffee, watch beans being roasted and sample coffees from around the world.
Quelle: Rösterei Münchhausen
Bremen and coffee
Did you know that every other cup of coffee drunk in Germany is supplied by a Bremen company? Or that the first coffee shop in the German-speaking countries opened in Bremen back in 1673?
Today, coffee is the most popular drink in Germany, with an average annual consumption of around 150 litres per head. And there's every chance that the beans or ground coffee will have come through Bremen, for example from Jacobs, Onko, Tchibo, HAG, Melitta or Azul.
Coffee heritage at Münchhausen
The art of traditional coffee roasting can be experienced at Münchhausen. The roastery's history dates back to 1935, when August Münchhausen founded a mail-order company selling tea and coffee. Before long the company started roasting its own coffee, end even today the glorious smell of the exotic beans permeates St Stephen's quarter when the master coffee roaster is at work. Guided tours give visitors the opportunity to find out more about how coffee is produced and what makes this aromatic drink so irresistible.
How did Bremen become a 'coffee city'? And what happens to coffee at a roasting house? For answers to those questions and more, visit Kaffeerösterei August Münchhausen.
You can also drink and buy coffee here, of course.