Jacobs Coffee Academy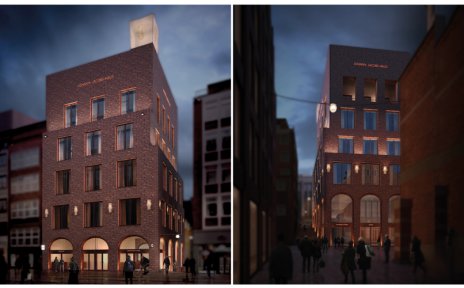 Where the world-famous Jacobs coffee company began – from heritage shop to view from the top!
Quelle: Johann Jacobs Kaffee Akademie GmbH
Coffee is back where it belongs, in the Johann Jacobs Haus in Bremen's old town. The original home of Jacobs coffee has now been restored to its former glory but with a contemporary reinterpretation, creating for Bremen a new attraction that will draw coffee lovers from all over the world. Johann Jacobs Haus at 20 Obernstrasse is once again a place where everything centres on the production, preparation and enjoyment of quality coffee – just as Johann Jacobs envisaged when he opened his first roastery and shop here 125 years ago.
The Jacobs coffee seminar offers visitors a special insight into the world of coffee and the history of the family dynasty in lovingly designed rooms that evoke the philosophy of the founder. What are the most important innovations that Jacobs has brought to Germany's favourite drink? When was the first coffee drunk in Bremen? And what makes a good cup of coffee anyway?
In a professional coffee workshop, this seminar aims to answer these and many other questions. A presentation reveals the origin of the most popular coffee varieties, describes the cultivation and harvesting, and explains the difference between quality and quantity. A drum roaster is used to illustrate the artisanal roasting process and explain why it makes the coffee taste so much better. The tour includes tastings of two of the company's single-origin speciality coffees, which show that, like wine, coffee has a wide spectrum of aromas and varies according to vintage. Visitors learn tips and tricks to ensure perfect preparation and storage at home.
The global brand 'Jacobs Krönung' and the exclusive house brand 'Jacobs Kaffee' are back where they belong, breathing new life into the historical building and the enjoyment of good coffee.