Bremer Bonbon Manufaktur (candy store)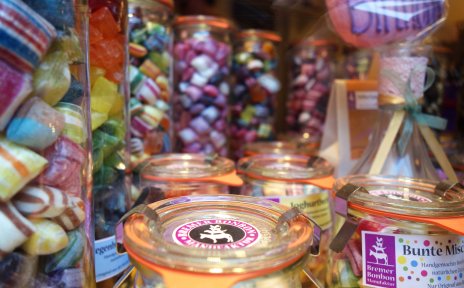 On Böttcherstrasse you can salivate while watching candy artisans at work, at Bremer Bonbon Manufaktur.
Quelle: WFB/Ingrid Krause
Visitors to the Handwerkerhof craft centre in Bremen's Böttcherstrasse are greeted by a wonderful sweet smell – this is where Bremen Bonbon Manufaktur is based. You can watch the sweet makers at work through a large window facing the yard, and if you are lucky you might even get to try a warm sweet. This quaint shop is pure heaven for anyone with a sweet tooth.
The sweets, with colourful and typically Bremen names such as Schwarzer Roland, Digge Mülch and Quarkbüdel, can be bought in the shop, and you are more than welcome to try all the various types and flavours.
You can also browse for sweet treats in Bremen's oldest quarter – the Schnoor. Marterburg 30 is the location of the Schnoor branch of Bremen Bonbon Manufaktur. As well as watching the confectioners at work in the generously proportioned show kitchen, you can step behind the counter yourself and make your own sweets. Workshops give you the chance to knead, shape and colour lollies, candy canes and all kinds of other treats as you learn about the art of sweet production. Participants can also create sweets in their favourite colours and flavours at children's birthday parties and corporate events.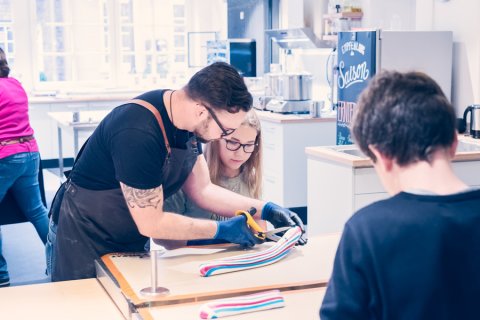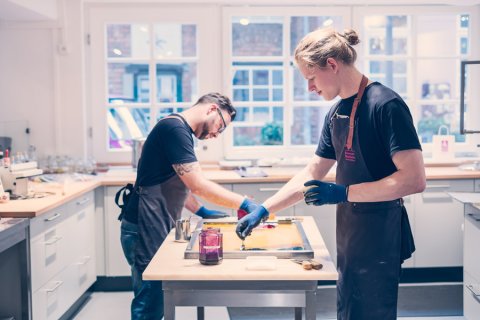 Exclusively at the Schnoor branch, you can watch the confectioners make English-style fudge. New flavours are constantly being created for this soft confection that is made by hand from the finest ingredients. In addition, the shop's long shelves are packed with popular sweets, creamy caramels and confections of all description.

Good food and good times in the Hanseatic City.
Quelle: BTZ Bremer Touristik-Zentrale / Jonas Ginter