Audio Guide Bremen
Can be downloaded here for free: audio files for your very own Bremen audio guide tour.
Quelle: WFB/Maike Bialek
With your individual audio guide tour you can hear interesting facts about the historic and present day Bremen. Experience the Bremen historic district with its historical buildings and the most famous points of interest. You can store these MP3 audio files on your own smartphone or MP3 player, and undertake an audio tour in Bremen with these.
13 stations along the "historic route"
13 Text/stations of the audio guide tour: introduction, history, market square, Roland, Bürgerschaft, Schütting, Böttcher street, Martini church/ landing-stage, Weser promenade, Schlachte, Schnoor, St. Petri cathedral, Town Musicians.
Follow the "historic route" in the Bremen historic district, which has been highlighted on the ground by means of marker points. In addition, grey tables with German and English texts supply information about all the important buildings in the Bremen inner city.
The audio guide tour can last approximately 1-2.5 hours. You alone decide how long you wish to sojourn with your individual audio guided tour. At every location one can hear approximately 3-5 minutes of audio information. Without any preparation and group, you can start at any time you wish and you can decide how long you wish to sojourn at a particular point, as well as when you wish to end the tour.
Foldout or printed version with city map included
You will be given a foldout "audio guide tour" with a city map as a pdf-file. You can obtain a printed version from the tourist-information in Bremen.
Download the complete package
You have the option to download the complete package with all mp3-files and store these on your smartphone or mp3 player. Playback is possible on any current smartphone with an app that is capable of playing mp3-audio.
Lending an audio player
You can obtain the audio guide tour with an audio player at the Tourist-Information, Böttcherstraße. 7.50 EUR lending fee per day/audio player inclusive of earphones. If you would like to make use of your own earphones, you will get a discount of 1.50 EUR. Please note that you are requested to pay a deposit for hiring the audio player: identification card, passport, driver's licence or 50 Euros in cash. Naturally, upon return, your deposit will be refunded.
You might also be interested in...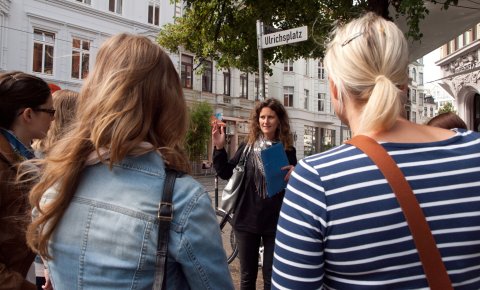 Enjoy an entertaining and informative tour accompanied by a guide.
Quelle: BTZ Bremer Touristik-Zentrale / Carolin Hinz