Outdoor Dining Bremen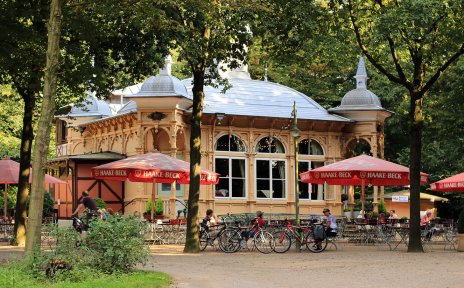 Nine great places to eat al fresco in Bremen
Quelle: WFB; Katharina Müller
Bremen is one of the greenest cities in Germany, with lots of parks and lush spaces throughout the city where you can take a break and relax. And in many of these green spaces, you can also enjoy a bite to eat. We've listed some of the best places for outdoor dining in Bremen. Have fun checking them out!
Waldbühne
In addition to the Meierei, the Waldbühne (forest stage) offers a culinary hiatus in the Bürgerpark. Initially an exhibition pavilion, the building is encircled with trees and has a patio that offers lots of shady spots on a hot day. The Waldbühne specialises in homemade cakes and rustic cooking. There is also live music.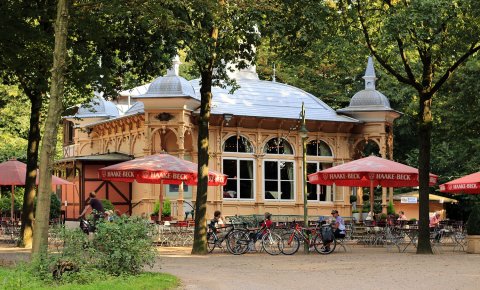 Quelle: WFB; Katharina Müller
Kaffeemühle am Wall
In the middle of the Wallanlagen, in the centre of Bremen, you'll find the Kaffeemühle (the coffee mill). Featured in the background of the Phil Collin's video "Take Me Home", from the spring through the autumn the Kaffeemühle is encircled by an ocean of blooming flowers. That's probably the reason so many people –not only Phil Collin's camera crew – want to photograph it.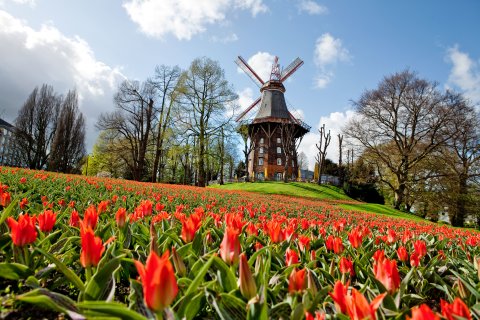 Quelle: WFB Wirtschaftsförderung Bremen GmbH/T. Vankann
Bloom Café and Restaurant
By the merry month of May, the namesake plants of the Rhododendronpark are already in glorious bloom. The park's other plant varieties ensure the park is beautiful in the other months. Sat in the middle of this lush greenery is the Bloom Café and Restaurant, where you can enjoy delicious cake and good food.
Quelle: KMU privat







You might also be interested in...