Musikfest Bremen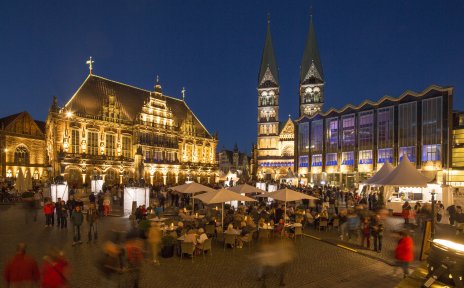 From 20 of August until 10 of September 2022
Quelle: Musikfest Bremen - fotoetage
At the end of every summer, both up-and-coming and established stars of the classical music scene come together in Bremen and the surrounding area for the Musikfest. At over 20 venues throughout the northwest, a multi-faceted programme covers all eras and genres.
Where and When?
August 20 to September 10, 2022

Festival of classical music with international stars. At various venues throughout the entire northwest of Germany.
The festival Musikfest Bremen was founded in 1989 by Prof. Thomas Albert and is since then a highlight of the cultural life every August and September in the Hanseatic city and selected venues all over north-western Germany. Its continuous shifting between old and contemporary music, between orchestral and chamber music, between tradition and avant-garde leads to a multifaceted, kaleidoscopic festival-program and is likewise reflected in the invited artists. Established artists next to shooting stars and youngsters make guest appearances at the festival, with their insights into the latest developments of the international music scene for discussion. Many programs and artists constellations can only exclusively be experienced throughout Germany at the Musikfest Bremen.
You might also be interested in...