Cycling in Bremen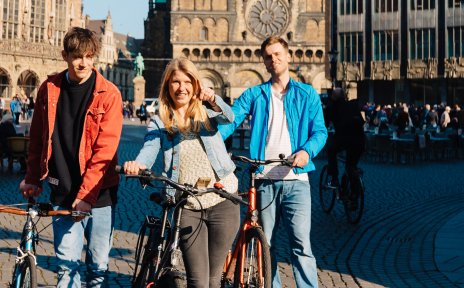 Discover Bremen by bike!
Quelle: WFB/Ginter
Bremen is famous for being a walkable and well-connected city, but few people are aware that it also has more cycle paths than most other cities in Germany. However, this is not the only reason why cycling in Bremen is a true pleasure. The many parks and green spaces and the almost complete absence of hills make it the perfect place for bike rides with the whole family. From cycling enthusiasts to casual recreational riders – the many cycle paths in Bremen offer something for everyone!
Cycling tours in and around Bremen

The Bike Citizens navigation system is also available for your browser.
Quelle: Bike Citizens

Cycling around an unfamiliar city is not always easy, but thanks to our useful tips and information, you'll find it child's play in Bremen.
Quelle: WFB/Ginter
Impressions: Bremen by bike

Which long-distance cycle routes lead to or pass through Bremen?
Quelle: WFB/Ginter

Quelle: © ADFC Bremen FOTO-TEAM / HG