Bremen Mitte
The Centre of the City
Quelle: WFB Wirtschaftsförderung Bremen GmbH/T. Vankann
Plenty of attractions and cultural activities make Bremen's Mitte (Middle) the heart of the city in more than just the geographical sense. With around 17,000 residents, the city centre may not be the most populated neighbourhood in Bremen, but it is a daily destination point for most of its citizens. Whether for work, shopping, or stepping out – there's always something going on in Bremen's Mitte.
Impressions of Bremen Mitte
Quintessential Bremen Mitte
Old meets new in the neighbourhood Mitte. The Altstadt (historical old town) has been the core of the Hanseatic city for 2,000 years. The Schnoor is Bremen's oldest section and probably its most interesting - a must for any tourist. Stephaniviertel, which lies further to the west, has recently developed into a hub for modern media and connects the inner city with the Überseestadt. To the east, the section of Ostertor pulsates day and night - together with Steintor it forms the Östliche Vorstadt district, known and beloved as the "Viertel" (the Quarter). In addition to numerous cultural offerings, you'll find many restaurants here, a thriving bar scene, charmingly narrow streets, and lots of historical Old-Bremen townhouses. Quite the contrast to the Bahnhofsvorstadt: This section is characterised by four and six storey apartment buildings, offices blocks, and the city's central transport hub - the main train station. The price of a flat in Mitte varies as greatly as the neighbourhood itself does. Depending on location, you can find an inexpensive one-bedroom flat or a pricey luxury apartment.
Not to be Missed in Mitte
Good to Know!
When taking a leisurely stroll along the Obernstraße - one of the main shopping thoroughfares in the Bremer City - mind the tram! Although it's a pedestrian zone, the tram lines 2 and 3 run through here. Bicycles, on the other hand, shouldn't be a problem: Throughout the entire inner city, cycling is only allowed between the hours of 20:00-11:00 and on Sundays.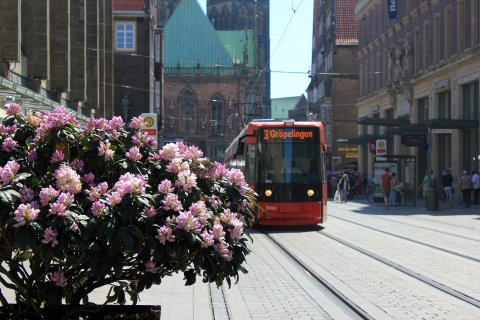 Quelle: Katharina Bünn
You might also be interested in...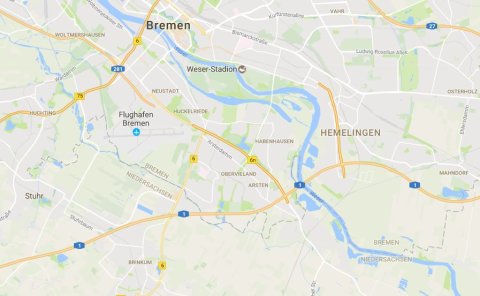 Learn more about what you should not miss in the different parts of the city.
Quelle: Maps