Curly kale tours
With the first frost the time of the curly kale tours begins!
Quelle: privat - JUA
Soon you'll be wandering through woods and meadows in all weathers again: with the first frost, not only does the kale season begin in Bremen and the surrounding area, but also the time of the traditional and festive curly kale tours!
Kohlfahrt? (Kale tour in engl. ) Behind this term, which is rather unknown in southern Germany, lies an event that some people in Bremen look forward to all year round. In relatively simple terms, it is a joint hike with a group of colleagues or friends, culminating in a meal of kale at an restaurant.

A custom that is over 100 years old

Since as early as the late 19th century, people in the northwest have joined together for this occasion every year during the kale season from November to March. Bremen and Oldenburg were thus made the stronghold of kale. With a schnapps glass around their necks and a colourfully decorated handcart carrying various schnapps in sour, green, clear or herbal variations as well as small snacks and a stereo system, people usually meet around noon in a convivial group and move through the city or botanic in a boisterous mood in the freezing cold, their goal - the green delicacy - always firmly in sight. On the way, the kale riders pass the time with games that seem less than Olympic, such as tea bag throwing or ice cube gum chewing.
Quelle: bremen.online GmbH/ Foto: kbu
The way is the goal

By the way, the kale meal is rarely vegetarian: typically Bremen kale is accompanied by the famous "Pinkel", a hearty grützwurst, supplemented with Kassler, minced pork meat or bacon.

Crowned cabbage king!

Well-fed and sufficiently hydrated, the new cabbage king and queen are elected with great excitement after the feast. They are crowned with a pig's lower jaw engraved with their names. In addition to less representative tasks, the king and queen are responsible for organising the next cabbage feast, including the choice of location, the route, the games and the solid and liquid food. The election of the king and queen is often fought out through games that are hard to beat in terms of creativity. The result sometimes borders on arbitrariness. However, the royal honour is gladly accepted by most participants, because: Braunkohl and Pinkel belong to Bremen like Roland and the Weser!
Quelle: privat / KBU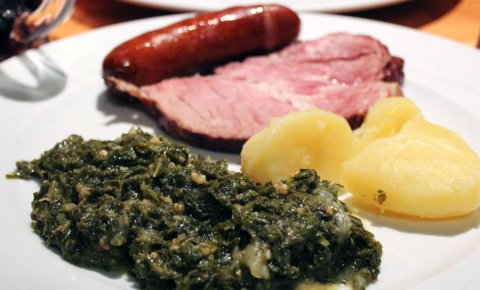 We show you how to prepare this traditional Bremen dish yourself!
Quelle: Katharina Bünn
You might also be interested in...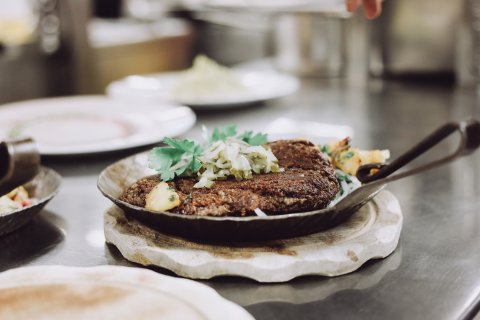 Discover Bremen's traditional hearty fare in restaurants and on guided tours.
Quelle: Katja Thiele / plan B Werbeagentur