Curly kale recipe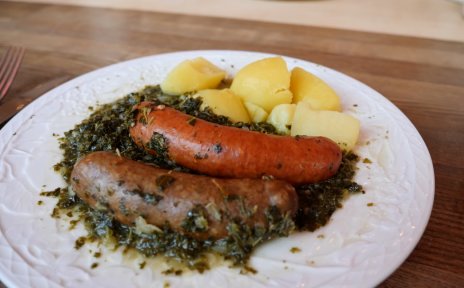 We show you how to prepare this traditional Bremen dish yourself!
Quelle: WFB - MKA
Homemade kale

You will need a fairly large pot to prepare this classic curly kale dish at home, but finding one should be the least of your problems. It's not that difficult - so get on the cooker!
We tested the following recipe for 4 people:
Bremen curly kale
Ingredients
3 kg curly kale (frozen or fresh)
3 onions
100g lard
1l beef stock or vegetable stock (substitute water)
3 tbsp mustard
600 g smoked pork
4 boiled sausages
4 Pinkel sausages
150 g porridge, if required
Salt, pepper
Preparation
First heat the lard and sauté the diced onions. Then add the (cleaned) kale and sauté. Then pour the broth over the cabbage so that it floats in the liquid.
Now it's time for seasoning: add salt, pepper and mustard!
Now add the smoked pork and the pinkel. Everything must now simmer for about 1.5 hours on a low heat.
Boiled potatoes, which are peeled and cooked in the meantime, are a good side dish.
If necessary (if the kale is too liquid), remove the meat from the cabbage, add the porridge and let it swell until it binds. Season with salt and pepper if necessary.
Now it's time for the sausage: put the cooked sausages and kale into the pot and heat them together over a low flame. Kassler and Pinkel are also added.
Enjoy your meal!
Of course, there are many more variations of this traditional Bremen dish and certainly one or two secret ingredients. Try out what you like best and enjoy the kale at home.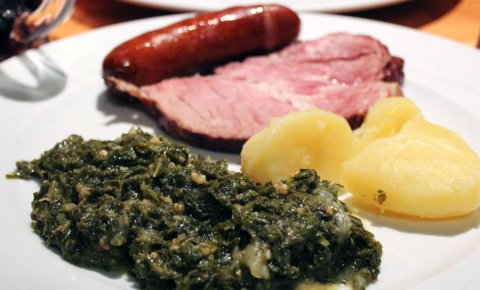 Quelle: Katharina Bünn
You might also be interested in...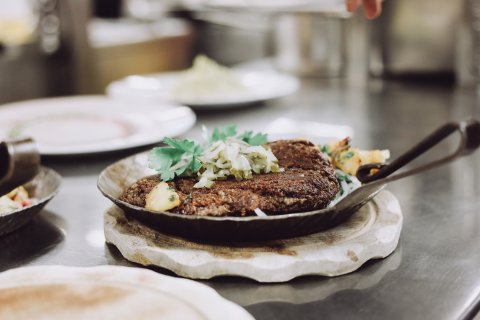 Discover Bremen's traditional hearty fare in restaurants and on guided tours.
Quelle: Katja Thiele / plan B Werbeagentur