Burglesum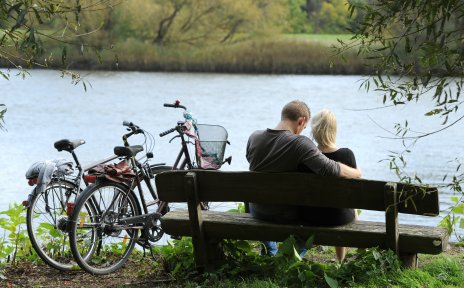 Bremen's Front Garden
Quelle: WFB; Ingo Wagner
In the northeast of Bremen is the neighbourhood of Burglesum. Although one of Bremen's largest neighbourhood's area-wise, with just about 33,000 residents, it's very sparsely populated. With its rural charm, "Bremen's front garden" – as it's affectionately called by the residents - captivates. In addition to the peace and quiet and rural idyll, Burglesum offers even more: The yearly open-air festival "Summer in Lesmona" with the Bremen Chamber Philharmonic, takes place here, amazing walks can be taken on the dike along the Lesum River, and a high-rope course offers the adventurous a tree to tree climb.
Quintessential Burglesum
There's plenty to discover in the five different sections of Burglesum. The Werderland not only offers the quietness of the countryside, but amongst other things, the Dunger Lake, where there are two-dozen species of indigenous dragon flies. Burg-Grambkeis also quiet, but the nearby presence of the harbour and industry still has an influence on the area. In the western part of Burgdamm you'll find a very popular shopping-mile. Lesum, on the other hand, charms its inhabitants with its village-like atmosphere, narrow and crooked streets, and quaintly refurbished older buildings. The residents of St. Magnusare not only proud of their well-kept locality, but of their "jewel", Knoops Park, which has its own promotional association to sustain and maintain its attractiveness.
Not to be Missed in Burglesum
Good to Know!
A special spot in Burglesum is called "Jünglingshöhe" - an exceptional lookout point with lots of benches to sit on and with a charm all of its own. Stop here to take a break and relax. The aspect from the spot is fantastic, with a view of the Lesum and the surrounding green space - the lookout point is worth a visit.
You might also be interested in...