Bremen cuisine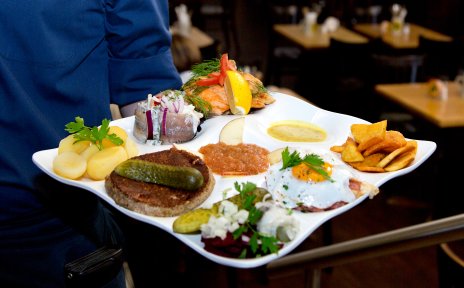 Bremen specialities, from substantial to sweet
Quelle: Ständige Vertretung
Hearty, tasty, but not for vegetarians – traditional Bremen cuisine can well be described in these few words. Here's an introduction to some typical local dishes.
Kohl und Pinkel (kale and sausage)
Probably the most renowned Bremen speciality is "Kohl und Pinkel" – a generous dish of kale (known locally as "Braunkohl", which means brown cabbage), accompanied by Kasseler (smoked pork), Bauchspeck (belly pork) and Pinkel (sausage). Although the word "Pinkel" sometimes has other connotations, here it simply refers to a traditional sausage made with meat, groats and spices. For Bremen locals, it's an indispensable part of a meal with kale. "Kohl und Pinkel" usually appear on menus in the cold winter months, after the first frosts. Many people in and around Bremen use this as an opportunity to enjoy an extended Kohlfahrtbefore the meal. Traditionally, locals fill hand carts with kale and pull them through the fields and byways around Bremen. Fortified against the cold by shots of schnapps, they gather together to chat, play games, and look forward to a hearty portion of "Kohl und Pinkel" at the end of the day.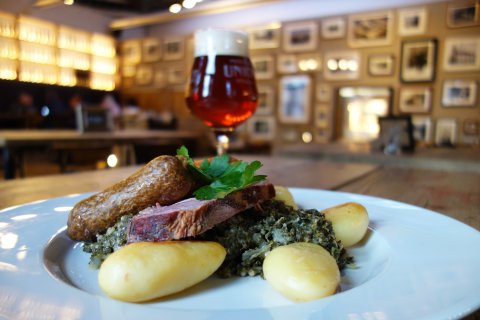 Quelle: WFB/Ingrid Krause
Labskaus (meat stew)
Like everywhere else in the far North of Germany, labskaus is also traditionally enjoyed in Bremen. Although the dish, which consists mainly of potatoes, salted meat and beetroot, doesn't look particularly appetising when presented on the plate, it's an essential part of the menu in any restaurant that offers hearty traditional fare. A local variant of labskaus includes roll mops (pickled herring), gherkins and a fried egg.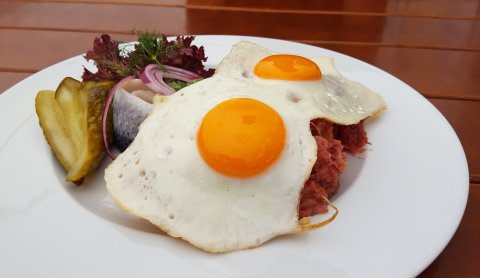 Quelle: Ingrid Krause / BTZ Bremer Touristik-Zentrale
Fried smelt (small silvery sea fish)
At one time, smelts swam up the Weser in such numbers between January and March that you could scoop them out of the river by the bucketful. For this reason, fried smelt was long regarded as a poor person's dish. Today, however, it is a sought-after speciality. Traditionally coated in rye flour and then fried, it is served up in many places in spring.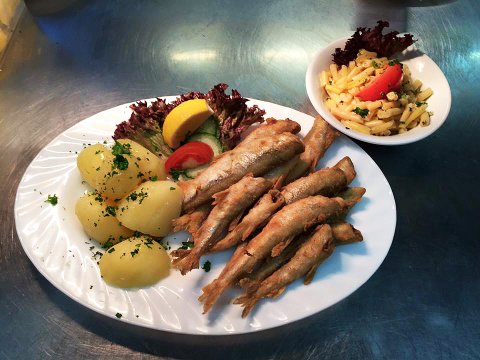 Quelle: BTZ / Emre Avdanlioglu
Knipp (sausage with groats and meat)
The Bremen Knipp is a sausage made with groats and meat, similar to the Pinkel. A Knipp is usually made of oats, stock and a mixture of pork and beef. A Knipp is fried until crisp and traditionally served with fried potatoes or bread and sour pickled gherkins and apple sauce.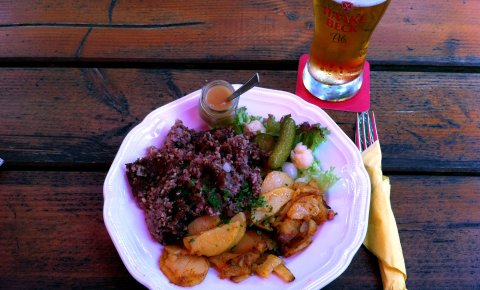 Quelle: privat / JUA
Kükenragout (poussin stew)
The main ingredient of Kükenragout are poussin (young chickens that weigh between 200 and 600 grammes). Resembling a classic chicken fricassee, it can also include asparagus, peas, carrots and mushrooms. However, a traditional Kükenragout can also feature many other ingredients such as crayfish tails, shrimps or ox tongue. Veal meatballs, black salsify, leeks and onions are also not uncommon in the many variants of this dish.
Quelle: Restaurant Teestübchen im Schnoor
Pluckte Finken (and hackte Müsen)
Pluckte Finken is a one-pot dish that dates back to the days of whaling. At sea, this stew was traditionally made from root vegetables and whale blubber ("Vinken") chopped up ("pluckt") into small cubes. White beans, strips of smoked bacon, potatoes, apples and pears then went into the pot. Nowadays, the blubber has been replaced by tender beef or salted meat. Sadly, this authentic dish now only makes a rare appearance on Bremen menus.
North Sea shrimps
Bremerhaven is happy to be known as "Fishtown" and its citizens don't mind being called "fish heads". These nicknames were inspired by the town's famous fishing industry and its importance as a fishing port. North Sea shrimps, also known as "Granat" are a particular local delicacy.
The shrimps are caught when the tide turns from ebb to flow, because they are washed up in the flow. They are caught by two bag-shaped fishing nets, called beam trawls, on shrimp boats.
Shrimps must be "pulled" before they can be eaten. The head and rear of the shrimp are twisted and then broken apart to release the meat from the shell. You can enjoy shrimps just as they are, on a slice of bread, or add them to soups and salads.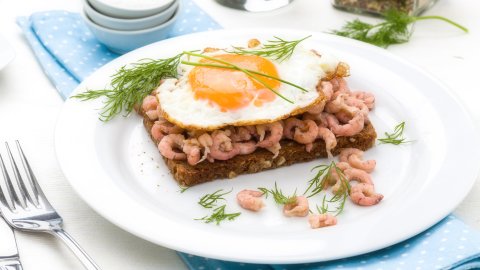 Quelle: fotolia.com / Fischer Food Design
Bremer Babbeler candy
The Bremer Babbeler is a long sugar stick flavoured with peppermint. It's said to be the longest cough sweet in the world. The Babbeler can trace its origins back to 1886, when Albert Friedrich Bruns created the very first one in his factory in Utbremen. Originally, the sticks were wrapped in greaseproof paper.
It's assumed that the name "Babbeler" comes from the fact that, having a sugar stick in your mouth will stop your "babbel" as they say in the local Low German dialect.
Today, the Bremer Babbeler is still exclusively made in Bremen and can be found in pharmacies, whole-food shops and a number of tea shops in and around the city.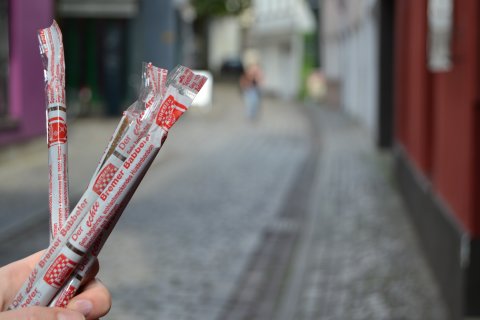 Quelle: WFB-LRU
Klaben
Bremer Klaben is a rich winter fruit cake not dissimilar to stollen. Klaben contains more fruit than stollen, making it moister. After baking, it is often either buttered or sprinkled with extra sugar. The history of the Klaben goes back to the heyday of the Hanseatic League. The very first mention of a "Klavenbecker" in Bremen was in 1593. As a result of having been awarded "Protected Geographical Indication" status by the European Union in 2010, genuine Klaben can now only be produced in Bremen.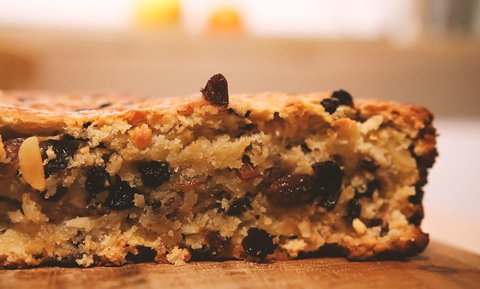 Quelle: Katharazzi
Bremer Kaffeebrot
Bremer Kaffeebrot (literally "coffee bread") is a traditional delicacy that is an essential part of what Bremen locals call "Kaffeesieren" – the art of enjoying coffee with friends. In essence, Bremer Kaffeebrot is sliced white bread which is coated with melted butter, sugar and cinnamon before being toasted. Custom dictates that you dunk your Kaffeebrot in your cup of coffee before eating it.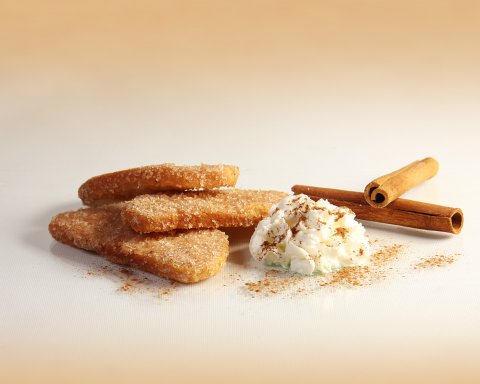 Quelle: Schnoorkonditorei
Bremer Kluten peppermints
A little bag of Bremer Kluten peppermints is a popular souvenir of Bremen. These sweets are about the size of two cubes of sugar, and half coated in dark chocolate. Bremer Kluten peppermint fondants have been enjoyed by locals and visitors alike since the 19th century. Today, you can find them in any number of bakers and confectioners in the city.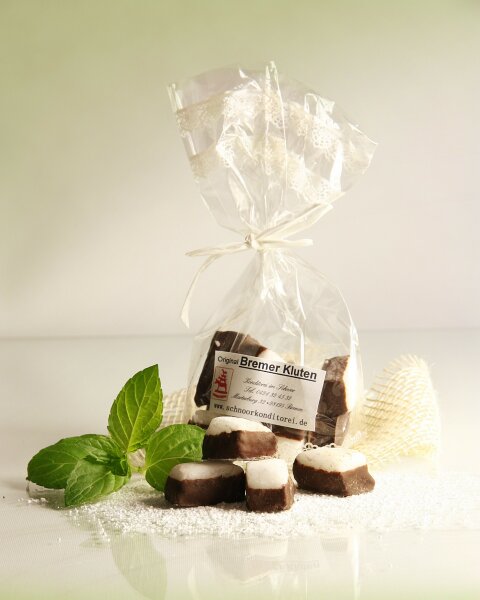 Quelle: Schnoorkonditorei
You might also be interested in...