Blumenthal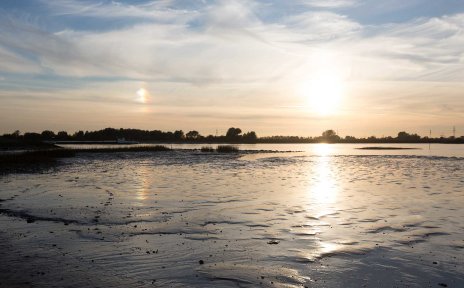 Bremen's Northern Most Neighbourhood
Quelle: WFB / Jens Lehmkühler
Blumenthal is not only the most northern neighbourhood of Bremen, it's also the only one with the Weser river on either side. The direct proximity to the water is reflected in the character of this neighbourhood at the geographical tip of Bremen. With its wharfs and wool combing works, Blumenthal was once an important economic centre, and its industrial shipping history is still apparent. But the heart of the neighbourhood maintains its village-like charm - Blumenthal, with its numerous residential areas and an architectural mix of single-family houses, multi-family houses, and apartments blocks, is a blend of village and suburb.
Impressions of Blumenthal
Quintessential Blumenthal
The reasonably priced neighbourhood of Blumenthal is divided into five sections, representing a vast diversity of cultures. In Rekum, the northern most part, you'll find mostly single-family houses and the best opportunities for walks in green areas. The thing most well-known about Rekum is probably the U-Boat bunker Valentin - a relic from the second world war, that today serves as a monument to remember and reflect on that dismal chapter in Germany's history. In neighbouring Farge, the free-standing, single-family houses with gardens make it look like a suburb. Pretty, thatched-roofed houses and farms can also be found here. Rönnebeck is also something special. Small-scale, family-friendly, and village-like, is the impression this area makes. In the centre of the neighbourhood of Blumenthal there's a bit more going on. Along the main square, you'll find all the necessary shops for your day-to-day needs. A shopping mall, a mosque, a public park, and recreational activities are available as well. In the western part of the neighbourhood, located at the boundary between Bremen and Lower Saxony, and set inside an area of woods, fields, and meadows, is the section of Lüssum-Bockhorn. Old-timers as well as new comers reside here in the rustic surroundings.
Not to Be Missed in Blumenthal
Good to Know!
It takes about 40 minutes with the public transportation network from the city centre of Bremen to Blumenthal. A more interesting, but lengthier, way to get there is over the water. On a ship that runs between Bremen and Bremerhaven (1 May-3October), the cruise takes 1 hour and 15 minutes - with a charming view of the landscape along the way - from Martinianleger to Blumenthal.
You might also be interested in...