Information and service for cyclists
Cycling around an unfamiliar city is not always easy, but thanks to our useful tips and information, you'll find it as easy as a child's play in Bremen.
Quelle: WFB/Ginter
Many of the cycle paths and tours in Bremen are signposted. The cycle paths are usually paved red or marked in some way. For tailored advice and handy accessories for your cycling tour, visit one of our tourist information offices. Enjoy the ride!
Taking bikes on public transport
Taking the bike on the bus or train is generally permitted in Bremen – provided you have a valid ticket. For more information on travelling by train with a bike, visit the website of the local public transport provider VBN. You'll find ticket information and terms and conditions for Bremen's public transport network on the BSAG (Bremer Straßenbahn AG) website.

There's also useful information for cyclists on the Deutsche Bahn website.

You can even take your bike on many of the Weser river tours.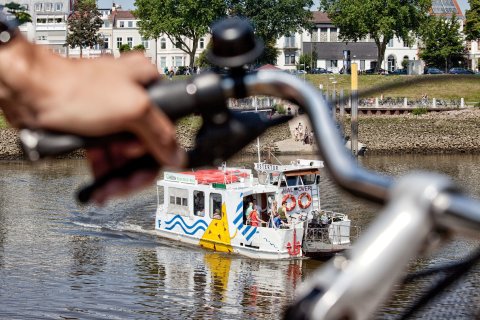 Quelle: WFB Wirtschaftsförderung Bremen GmbH/T. Vankann
Cycle stations, bike parking and Bike & Ride
You can leave your bike safe and dry at the Radstation at Bremen's main train station. The Radstation at the train station also offers a bike repair service and can answer all your cycling questions.

Some BREPARK multi-storey car parks also have parking for bikes (car parks Am Brill, Mitte and Am Vegesacker Hafen). And the first BREPARK-Fahrradparkhaus (multi-storey bike park) is situated next to the BREPARKhaus Am Dom multi-storey car park (Wilhadistrasse 1).

Bremen's transport management office provides lots of information, conveniently displayed on a map, about Bike & Ride stations (incl. information about public transport connections), bike parking facilities and bike counting stations in and around Bremen.

The VBN website provides an interactive map showing the many Bike & Ride facilities throughout the transport network.

Quelle: © ADFC Bremen FOTO-TEAM / HG
Route planner, tickets, app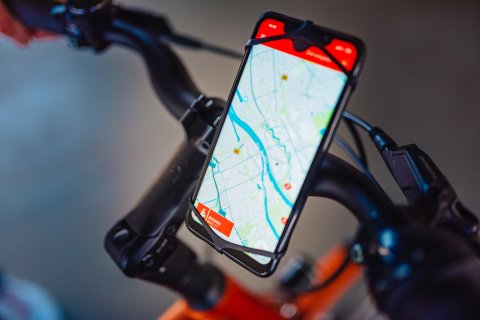 Quelle: WFB/Ginter
You might also be interested in...