Guided tours and trips
Every guided tour of the old quarter includes a visit to the Bremen Town Musicians, of course. There are also a number of offers specifically aimed at groups. The following group tours are dedicated to the four intrepid musicians:

On the trail of the Bremen Town Musicians
An entertaining, culinary-themed guided tour of Bremen's historical old quarter on the trail of the Bremen Town Musicians. Includes visits to three different restaurants.

Legendary Bremen
Bremen – a city full of legends, stories and anecdotes, which can be enjoyed on this guided tour.

Legendary Bremen (for schoolchildren)
Guided tour for schools. Bremen stories, legends and anecdotes. Bremen dates back around 1,200 years, and the city has much more to offer than just places of interest from centuries past.

Guided tours of exhibitions:

Guided tour of the exhibition at the Kunsthalle art gallery (only German)

The Town Musicians Express road train takes its name from our most famous 'residents':

Town Musicians Express – city centre tour (only German)
Small, nimble and silent – that's the Town Musicians Express. Explore Bremen's historical old quarter the easy and eco-friendly way. (Audio commentary in German only)

Town Musicians Express – Überseestadt tour (only German)
Explore Bremen's Überseestadt district the easy and eco-friendly way on board our new electric road train, the Town Musicians Express. (Audio commentary in German only)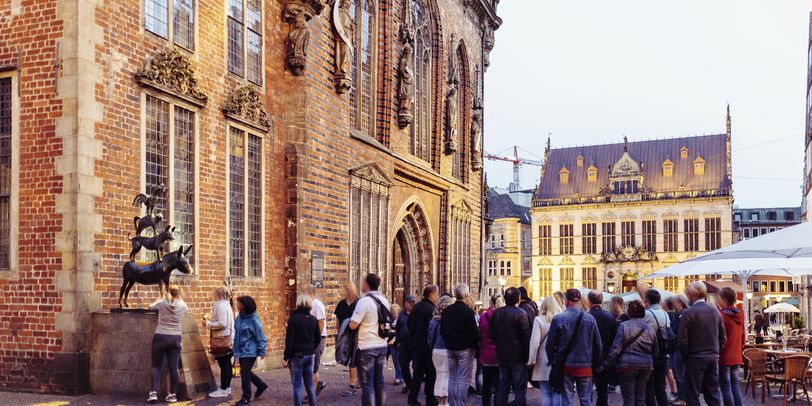 Andrang bei den Bremer Stadtmusikanten
Quelle: Jonas Ginter / BTZ Bremer Touristik-Zentrale