Bookable offers for the subjects science and technology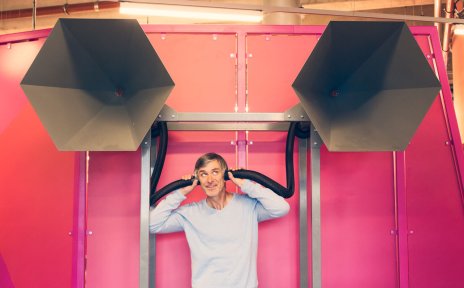 Here you can find an overview of the bookable offers around science and technology for 2021. Have a look and find your favourite offer!
Quelle: Universum® Bremen
Tickets, guidances, sightseeings, all-inclusive offers

Enjoyment, fun and discovery at the ATLANTIC Hotel Universum
In this package you can find overnight-stays in the ATLANTIC Hotel Universium, including delicious meals, drinks, entry at the Universum Bremen, Highspeed Wifi and also a digital newspaper kiosk.

botanika
Colourful flowers, exotic animals, interactive discovering: Explore Asian landscapes like the Japanese Garden, the mountain world of the Himalaya or become a botanic scientist. Marvel at the 2,4 meters high, gilded statue and enjoy being surrounded the animals at the botanika.

Universum Bremen
Explore the Universum Bremen, be astonished, gain knowledge and experience a real adventure. The subjects "humans, nature and technology" are waiting for you. Let you give a good shaking on the earthquake-couch, pass the lie detector, explore a flash mashine and a space roboter and let off steam on the outland at 25 interactive stations.

Adventure flight in the A320-Cockpit (in a team of two)
This is the right place for anyone who always wanted to fly an airplane: Take a seat in an original cockpit on a pilot seat and fly alternating in a team of two. Choose out of a data bank with thousands of aerodromes, decide for your preferred weather conditions and start your flight. This offer is also bookable just for one person.

Take a ride at the Mercedes-Benz offroad parcours "The Rock"
Fans of all-terrain-vehicles get their money's worth: With 70% grade and 80% slope you can prove your driving skills at the compound after a short introduction.

Mercedes-Benz factory tour for groups
Experience very closely how a Mercedes-Benz is built. Visit by foot the body construction and take a look behind the scenes and witness the genesis of the SL, SLK, C-Class, E-Class Coupé and the all-terrain GLC.

'Aerospace Bremen' guided tour for 1 to 23 guests
How can astronauts be supplied in space? How is life in weightlessness? How much weighs a liter of milk on the moon, on Saturn or Venus? Figure it out and visit the modell of the Columbus module. You can perpetrate the 1:1-modell and you can find answers to your space flight questions. This Guidance is also possible for groups up to 47 persons.