Coronavirus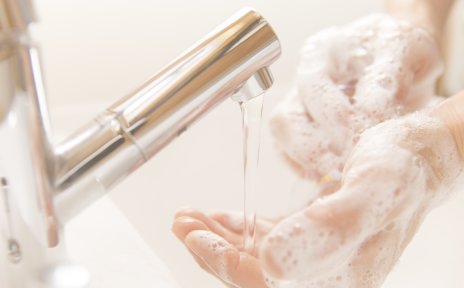 Here we collect the latest information on the situation in Bremen: Info numbers, recommended precautions and links to the responsible offices and departments.
Quelle: Adobe Stock / 手洗い
Corona cases were also confirmed in Bremen. We have compiled sources of information for you.

If you are suffering from fever, cough or respiratory diseases and have been in risk areas or have had contact with people who are demonstrably ill, first contact your doctor by telephone! Do not go directly to the doctor's practice or the Corona ambulance! Outside the regular office hours of your doctor's practice, you can contact the medical on-call service of the Kassenärztliche Vereinigung der Freien Hansestadt Bremen (Association of Statutory Health Insurance Physicians of the Free Hanseatic City of Bremen) at 116 117.


Information for incoming travellers
If you arrive in Bremen or return to Bremen and have been in a risk area within 14 days before, you are obliged to be tested and put in quarantine until a negative test result is obtained. Travellers arriving via Bremen Airport can have themselves tested directly at the test centre on site. Persons arriving by train, bus or car have the opportunity to be tested free of charge at the "GeNo Corona Messehalle" test centre within 72 hours. Travelers from risk areas must announce themselves besides by Mail to infektionsschutz@ordnungsamt.bremen.de at the public order office Bremen. Persons can be exempted from the test and quarantine obligation if they can prove a negative test result not more than 48 hours before entering the country.

In addition, all those entering from non-risk areas can have themselves tested at the GeNo Corona test centre in the exhibition hall. This possibility is available until 72 hours after entry to Bremen. More information is available on the website of the Senatorin für Gesundheit, Frauen und Verbraucherschutz.
Corona ambulances
The central contact point for patients with a letter of referral is the Corona Ambulance Bremen-City (near the Gallopprennbahn). The Corona Ambulance at Exhibition Halls 5 and 6 should only be contacted in the event of a test ordered by the Health Department. On the website of Gesundheit Nord you will find a map showing you how to find the Corona Ambulance and many tips on how to proceed in case of suspicion.
Information hotline for Bremen
You can get information about the coronavirus in Bremen by calling 0421 115.
Precautions
Pay attention to personal hygiene, especially regular and proper hand washing and cough and sneeze etiquette.
Avoid contact with persons suffering from respiratory diseases.
If you suspect an infection, always contact your doctor by telephone first! Outside regular consultation hours: Telephone number 116 117.
Englisch 10 Personen
Quelle: WFB GmbH - DGL
Maskenpflicht Englisch
Quelle: WFB GmbH - DGL
Abstand Englisch
Quelle: WFB GmbH - DGL
Alkoholverkaufsverbot Englisch
Quelle: WFB GmbH - DGL
Zuhause bleiben Englisch
Quelle: WFB GmbH - DGL
Help, information and contact details for businesses and workers in Bremen
Links, contact details and information on the help available from the state of Bremen and the federal government for companies that are in financial difficulties as a result of the coronavirus crisis.
Statutory ordinance in simple language
Catalogue of fines
Violations of the applicable regulations on dealing with the coronavirus are subject to a fine. The penalties are listed in the catalogue of fines.
Package of measures by the Senate
The Senate has published detailed information on the measures adopted to slow down the spread of the coronavirus:
From 27 April 2020, it will be compulsory to wear everyday masks in public transport and retail shops.
A minimum distance of 1.5 metres from other people must be maintained in public.
Accommodation facilities reopen from 18 May 2020 for tourist purposes under certain conditions. There are different, stricter regulations for November 2020: tourist overnight stays are not permitted.
Restaurants reopen from 18 May 2020 under certain conditions. There are different, stricter regulations for November 2020: restaurants are not allowed to serve guests and only sell food and drinks to take away. In certain areas the sale of alcoholic drinks between 10 p.m. and 6 a.m. is not permitted.
Private events are permitted in closed rooms up to a maximum of 10 people. It is highly recommended that the people come from a maximum of two households.
Cultural and sporting events, both indoors and outdoors, are prohibited.
Theatres, cinemas and concert halls reopen from 12 June under certain conditions. Clubs remain closed. There are different, stricter regulations for November 2020: Theaters, cinemas and concert halls will remain closed.
Meetings of more than ten people from a maximum of two households are generally prohibited in public.
General information about the coronavirus
Worth knowing from diagnostics to prevention, travel or fighting the virus. Weiterlesen