Coaches and cars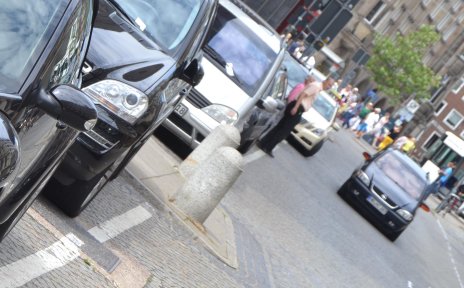 Everything you need to know if you're travelling to Bremen by road.
Quelle: bremen.online GmbH - MDR
The Bremer Kreuz intersection is a major transport hub linking the A27 Cuxhaven-Bremerhaven-Hannover autobahn and the A1 Hamburg-Osnabrück-Rhineland autobahn. Bremen can also be reached via the A28 autobahn from East Friesland and Groningen in the Netherlands. The easiest route into the city centre is via the Bremen-Arsten or Bremen-Hemelingen exits from the A1. There is a state-of-the-art traffic management system in the city centre.
Bremen low-emission zone
Bremen's low-emission zone came into effect in January 2009. Only cars displaying the green discs are permitted to travel in the districts of Altstadt and Östliche Vorstadt, some parts of Schwachhausen and most of Neustadt. If you are staying in accommodation within the low-emission zone, you can drive in this area for the duration of your stay without having to display a disc. Instead, you must display a booking confirmation that is clearly visible though the front windscreen and that indicates where you are staying and how long for. This does not apply if you are staying in accommodation outside the low-emission zone. If this is the case, you will need a green disc or special dispensation to drive your vehicle in this area. The Bürgerweide car park is located outside the low-emission zone. The ÖVB Arena and the exhibition centre remain accessible via Daniel-von-Büren-Strasse, Friedrich-Rauers-Strasse and Falkenstrasse, Kaufmannsmühlenkamp and Findorffstrasse. To use the other multi-storey car parks in Bremen city centre, however, you will need a valid disc.

Motor home drivers do not require a disc if they are driving to or from their pitch on Kuhhirtenweg using one of the following routes: Friedrich-Ebert-Strasse, Wilhelm-Kaisen-Brücke, Werderstrasse, Kuhhirtenweg or Doventor, Martinistrasse, Wilhelm-Kaisen-Brücke, Werderstrasse, Kuhhirtenweg.

For more information on Bremen's low-emission zone see this website.
Parking information system
Before you enter the city centre, a parking information system shows you how many spaces are available in each car park. Alternatively, you can use the city's Park+Ride service. There are convenient tram and bus (BSAG) services to all the main attractions, and these services are free if you park at the Brepark.
You might also be interested in...