Bunker Valentin Memorial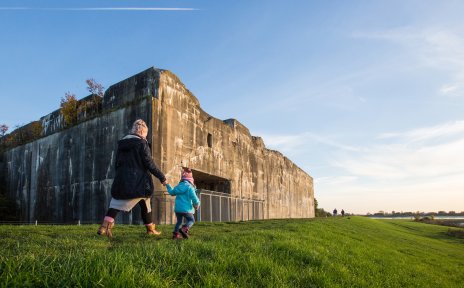 Memorial and Educational Site in Bremen-Farge
Quelle: WFB/Jens Lehmkühler
The Bunker Valentin is a memorial site in remembrance of the war and the crimes committed by the Nazi regime. The memorial grounds opened to the public in November 2015 with a visitors centre, information trail and exhibition about the history of the bunker.
A War-Time Construction Site
The Bunker Valentin is the ruin of a submarine shipyard of the German Navy from World War II. Covering more than 35,000 square metres, it is the largest free-standing bunker in Germany. From 1943 to 1945, thousands of forced labourers from all over Europe were put to work here: civilians, prisoners-of-war and concentration camp inmates. More than 1,100 people died during construction from starvation, illness and arbitrary killings.

Over a period of five years, the grounds of the memorial were redesigned and opened to the public in November 2015. An information trail with 25 stations tells the history of the bunker with historical photos, eyewitness accounts and short explanatory texts. The route begins at the memorial "Annihilation through Work" and continues into the visitors centre and on to the other stations on the grounds. More in-depth information is provided by the exhibition, a media table with projections and a multimedia guide, which is available for loan free of charge.
History of the Bunker with Submarine Shipyard
The Bunker "Valentin" in Bremen-Farge was one of the largest military projects in Nazi Germany. From 1943 to 1945, thousands of forced labourers from all over Europe worked at the bunker construction site. In the decades following the war, a debate ensued over what to do with the shipyard that had been built with slave labour. Once consideration was to completely demolish the massive concrete hangar. In the 1960s, the German Navy used a part of the building as a storage depot. Special permission was required to enter the bunker's compound. In 2010, following the departure of the Navy, the Senate of the Free Hanseatic City of Bremen commissioned the Regional Agency for Civic Education to create and run the Bunker Valentin as a memorial and educational history site.
Tours
Public tours (German): Sundays 11 a.m. – 1:30 p.m.
Group tours: Advance booking necessary (max. 25 people)
Foreign language tours: Advance booking necessary
Audio guide; on loan free of charge in German, German for kids, and English


Guided tour for groups
Quelle: Fotolia
You might also be interested in...