Brepark Fahrradparkhaus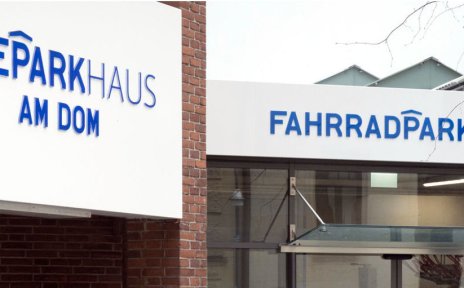 Park your bike (and your panniers) conveniently and securely right in the centre of Bremen.
Quelle: Jörg Sarbach für BREPARK
The first BREPARK-Fahrradparkhaus is situated next to the BREPARKhaus Am Dom multi-storey car park (Wilhadistrasse 1). Cyclists can choose from 42 bike boxes and 48 two-tier bike racks. There are also a further six spaces for cargo bikes or trailers, lockers and a tool station for minor repairs.
Charging points
Riders of electric bikes will appreciate the integrated charging points in all boxes. Their use is already included in the price.

All other spaces can be used for free. BREPARK Fahrradparkhaus Am Dom is easily accessed via an automatic sliding door. Users of the bike boxes receive a card that gives them access at any time.

Times
Prices
24 hours 3 Euro
72 hours 7 Euro
1 week 10 Euro
30 days 25 Euro
You might also be interested in...