Bremerhaven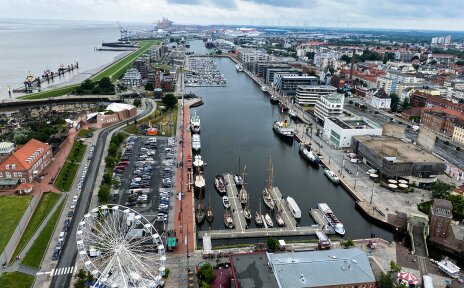 Catch a fresh breeze at Bremens seaport.
Quelle: WFB - LPE
The unending sky of Northern Germany. The constant beat of tidal waves. The toing and froing of mighty ships from every corner of the world. Old seafaring dreams. Navigation lights gleaming on the lightless river. Floating sails that belly in the sunshine. Seabirds that fly into the sunset. The surging of the storm tide. And the hooting of foghorns in the early hours of the morning. Sights and sounds that typify the busy deep-water seaport of Bremerhaven.
There are indeed many key attractions that offer real eye-opening perspectives on Bremerhaven, ranging from the German Maritime Museum and the Marine Zoo to the wartime U-boat "Wilhelm Bauer".
What's more, the variety of local cuisine has long created ample seafood dishes, prepared in every conceivable way. Not surprisingly, this obvious advantage has created several classy restaurants, the most prominent of which we have hand-picked and included in our travel offers.
Can a huge and busy seaport really reward you with a relaxing holiday? Bremerhaven will just fit the bill! The city's distinct setting on the mouth of the River Weser almost makes it merge with the North Sea, ensuring a steady supply of clean and fresh air. Why not go on a leisurely walk along the many dyked waterfront promenades as the sea breezes tousle your hair? Alternatively, you can hire a bicycle to explore the marshy countryside to the south of the city or the tiny seaside resorts to its north. Still another great idea for a day trip involves a cruise on board a genuine square-rigger on the North Sea.
You might also be interested in...