botanika – Bremen's world of nature discovery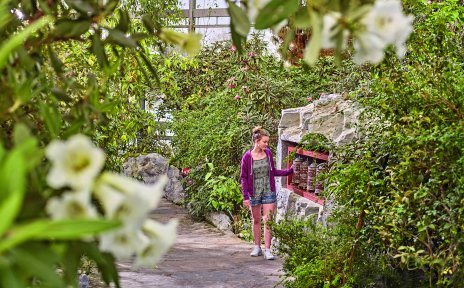 A jewel in the middle of the Rhododendron Park
Quelle: botanika
Experience nature, the Far East, and colourful blossoms – you'll find them all in the botanika, Bremen's world of nature discovery.
Opening Times
Monday to Friday
from 9 a.m. to 6 p.m.
Saturday, Sunday and on public holidays
from 10 a.m. to 6 p.m.
Natural beauty, right in the middle of the city – the botanika, Bremen's world of nature discovery – makes it possible. Located on the grounds of the famous Rhododendron Park, you can see the flora of the world and make fascinating discoveries in biodiversity and plant ecology with a visit to the botanika.

A unique atmosphere
Asian landscapes, a japanese garden and a butterfly house allow you to not only experience exotic nature and culture in a new way, but also our own native ecosystem as well. In the greenhouse, follow the path from the Japanese Garden, through the lush greenery of Borneo and New Guinea into the Himalayas. Original exhibits such as a prayer wheel, a Chinese tea pavilion and authentic Buddha statues, accompany you along the way. There are also numerous exotic varieties of Rhododendrons for you to enjoy. With its many interactive activities, the botanika is a destination for the entire family. The unique atmosphere of the botanika also makes it a terrific space for events and parties, like a child's birthday or even a wedding.
Quelle: botanika
The Discovery Centre
Wander through a sweet-smelling meadow, observe a bee colony at work, or find out what it feels like to be the fly inside a carnivorous plant. In the Discovery Centre of the botanika you'll experience the plant and animal world in a new, unusual way. The numerous interactive stations and exhibits bring you nearer to the wonders of nature, step by step.
Quelle: botanika

Book your tickets online
Quelle: botanika Bremen
You might also be interested in...