Bike tours and packages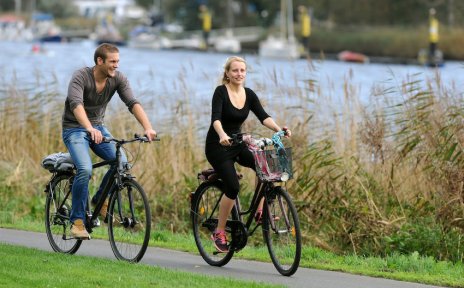 An overview of guided cycle tours and other packages.
Quelle: WFB Wirtschaftsförderung Bremen GmbH / Ingo Wagner
The most popular mode of transport among Bremen locals is the bicycle. There are more journeys made by bike in Bremen than in any other German city of over half a million inhabitants; and compared with similarly sized cities across Europe, Bremen ranks third. The abundance of cycle paths, parks and green spaces, and the absence of any real hills make it the perfect place for bike rides and other cycling activities, some of which we've outlined for you below.
Would you like to book online now? Then simply click on the link at the top of each activity.
Cycling offers for groups

A guided cycling tour taking in the best of Bremen's sights.
Price: €85.00 per group
Duration: approx. two hours
Dates/times: daily by arrangement

Bremen BIKE IT! tours in the company of a guide

BIKE IT! makes recommendations for captivating cycling tours on extensively described routes. The tours are signposted from start to finish and they are also displayed on the Bremen bikecitizens app as well as on maps and flyers. To get even more from the tour, you can hire a guide to accompany you along the route.

Please note:
You will need to provide your own bicycle for all tours.
We are happy to help you find bicycles to hire.
For all group tours, a maximum group size of 15 applies.
You might also be interested in...