48 Hours in Bremen - Day 2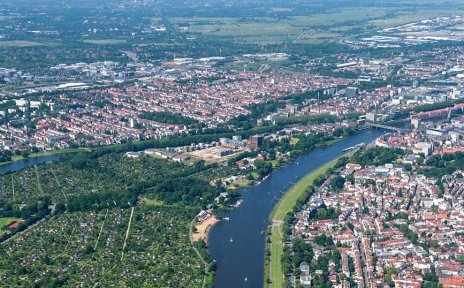 Breakfast (9:30 to 10:30)
After an eventful day full with visiting Bremen's most famous sights, now you have the chance to explore Bremen's seafaring side. Begin with a breakfast at the Schlachte direct on the Weser promenade. With the number of restaurants here, you'll be spoiled for choice. Perhaps our Gastrofinder can be of some help.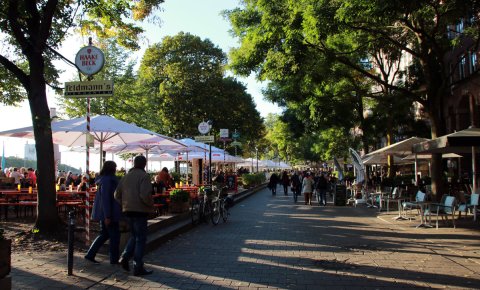 Quelle: Katharina Bünn
Walk along the Schlachte (10:30)
Stroll along the Weser and cross over the Teerhof Bridge to catch a glimpse of Bremen's historical city centre from the other side of the river. By the way: on Saturdays an antiques and flea market sets up along the river from the months of March to the end of December, between the hours of 8:00 to 14:00.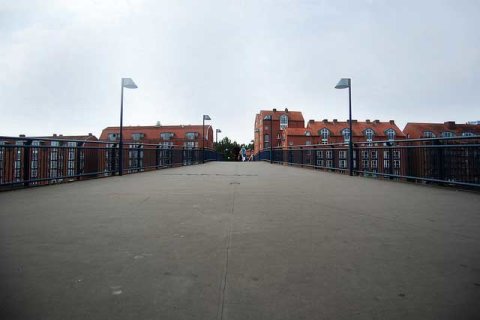 Quelle: privat
Rent a Bike (11:00)
Bremen is a bicyclist's paradise! So time to rent a bike and explore Bremen on two wheels. From the Schlachte it's a short trip to the following bicycle rental companies:
Bicycle rentals from "Wohnküche" located at Hinter der Mauer 5
"ADFC Radstation" am Hauptbahnhof. From the tram stop "Am Brill" take the tram line 1 or the number 26, 27 or 63 bus to the main train station (a ten-minute ride)
Go "old school" with a bike rental from the 70s or 80s from "fahrrad express". Take tram line 1 to the "Am Dobben" stop and walk to Bohnenstraße 7.
Bike tour (11:30)
Set-up with your rental and your bike tour of choice, you're ready for your next destination. Ride along the Weser or even board the ship Hal Över with your bike in tow. Bike through the scenic countryside of the Blockland by way of the Bürgerpark. Put your individual route together with the Bike-Citizens app and find lots of different tour possibilities on Bike-it.
Lunch (13:30)
Vintage car enthusiasts won't want to miss a visit to Schuppen Eins, the centre for automobile culture and mobility. In this huge space, you'll find an expansive collection of historical automobiles and speciality cars. Break for a lunch with Arabic flair at "Al Dar" and enjoy some Syrian cuisine. The Überseestadt also offers plenty of other options for a midday snack.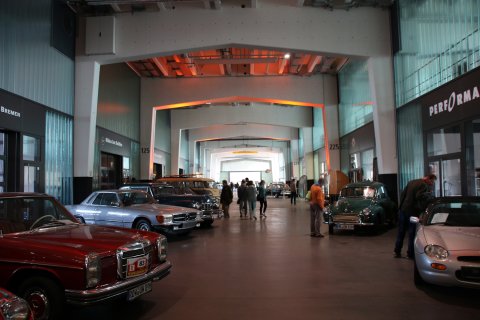 Quelle: Katharina Bünn
Afternoon
After the fortifications, you're ready to get back in the saddle and continue on with your bike tour.
Saying your farewells (beginning 19:00)
End your visit to Bremen by going back to the heart of the Hanseatic city, the town square. Savour a meal in the rustic atmosphere of the Bremer Ratskeller or Schüttinger Gasthausbrauerei. After dinner you can say your final goodbyes to the four Bremen town musicians before heading over to the Schlachte to finish up the evening a with a drink or a cocktail.
Back to 48 Hours in Bremen - day 1





You might also be interested in...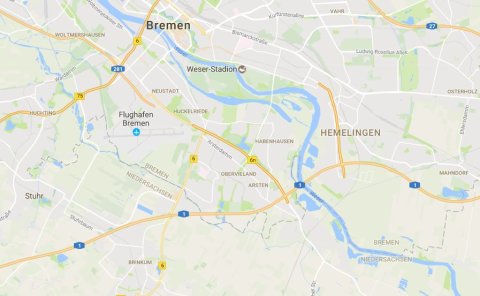 Learn more about what you should not miss in the different parts of the city.
Quelle: Maps